December 2020
Well we have had a great half term at Forest School.
The children have responded so well that we have started to use tools and flints.
We have learnt the tool talks and safety for the use of the bowsaw and the loppers.
We can also use the flints to light fires and have ended this half term with a Christmas sing song around a real fire . Some elves had also been and decorated some trees for us as well as leaving chocolates.
The girls in particular have worked together as a team and done some excellent problem solving in moving logs around safely for us to use in our fire circle.

We had a Swedish treat when Isaac bought some biscuits in for us to share.
October 2020
We have had a very busy first half term at Forest School.
The children are so enthusiastic and have so many wonderful ideas of what they would like to do. They make shops, dens, swings, pictures and tree spirits.
They are good listeners who are taking on board all the safety advice and routines that we set in place.
We have learnt to do square lashing....some of us better than others!! We have also overcome our fear of getting muddy and wet!!
There is a lot of problem solving going on not least by Mr H who is determined to rig up a zip line somehow! Lots of ideas are offered and tried out on a weekly basis.
We are all considering our clothing being suitable for the weather conditions and have all been kitted out well so far. Please remember that an extra thin fleece layer will be good for when the weather really gets cold.

We are learning about the fungi and trees as well as their seeds and seasonal changes that are visible as the weeks progress. It is beautiful down there in the forest we are very lucky that it is on our doorstep.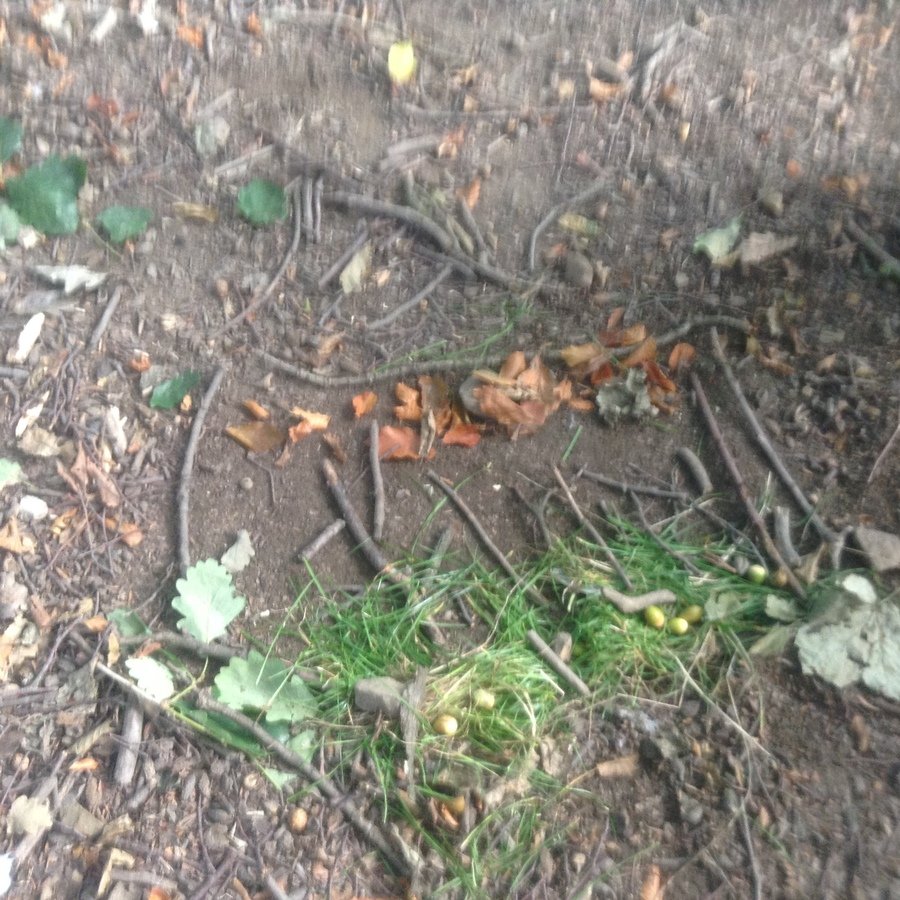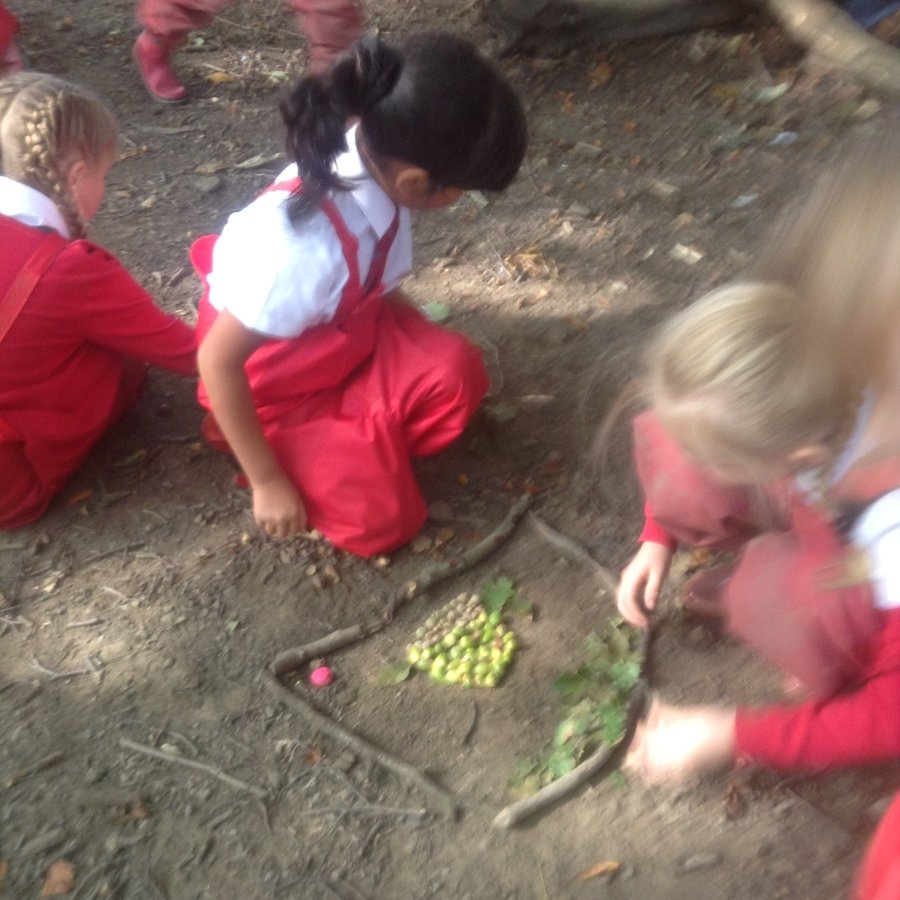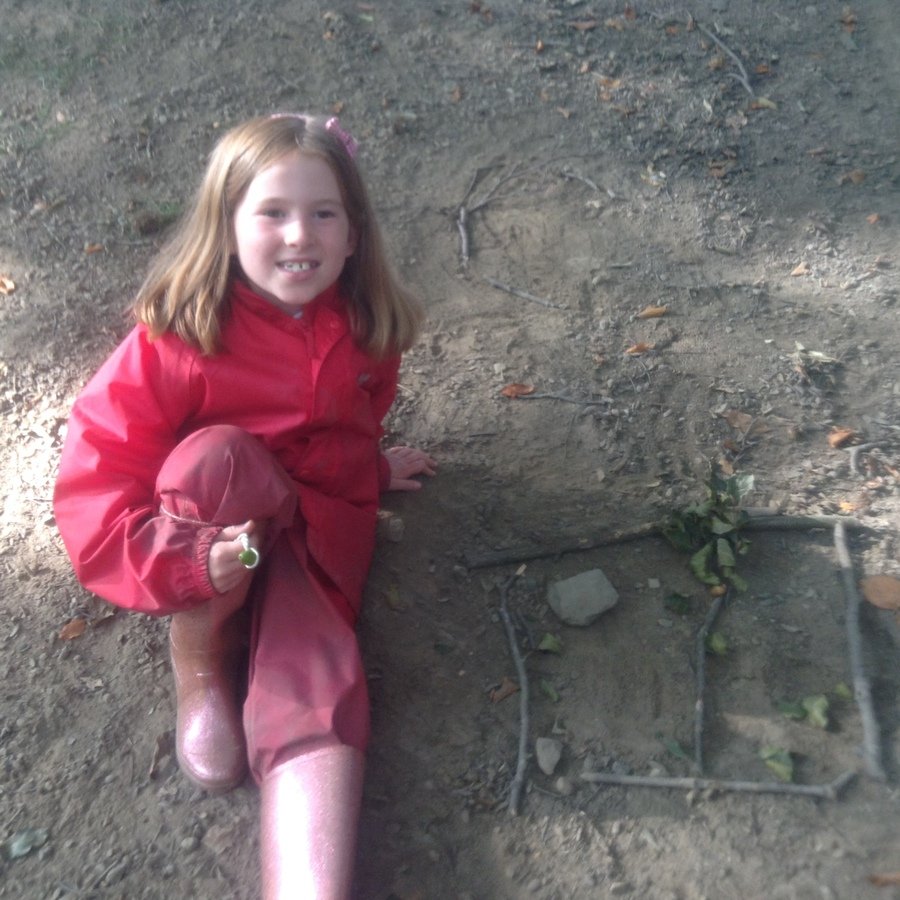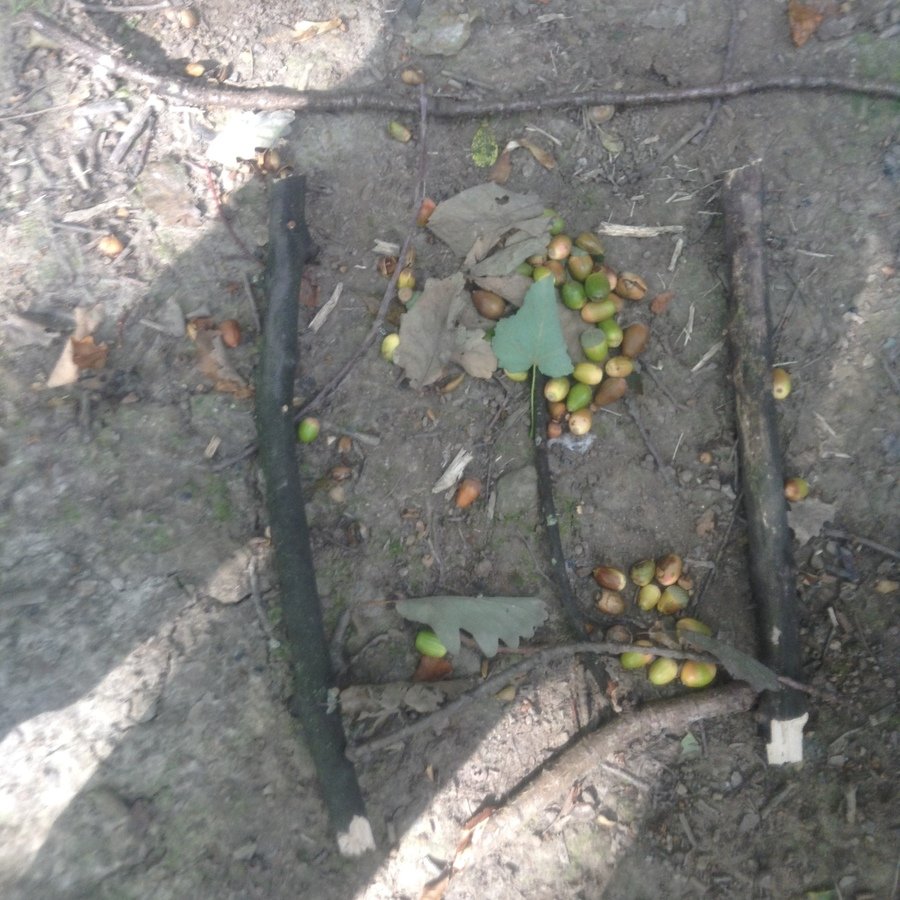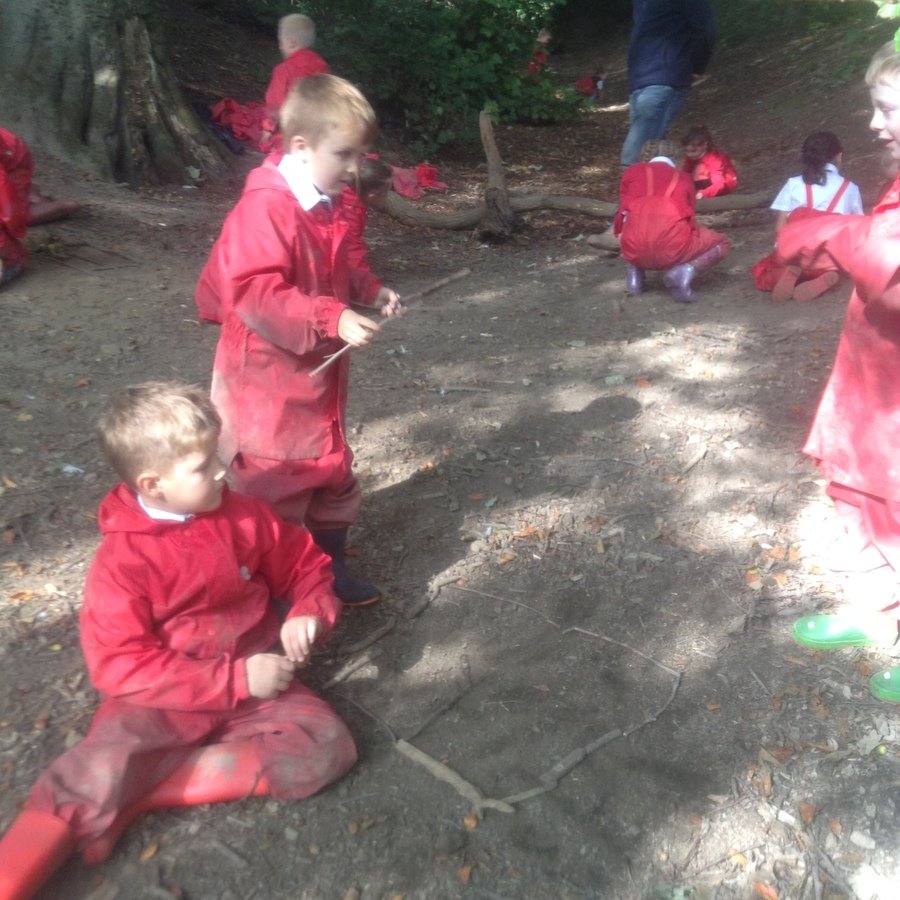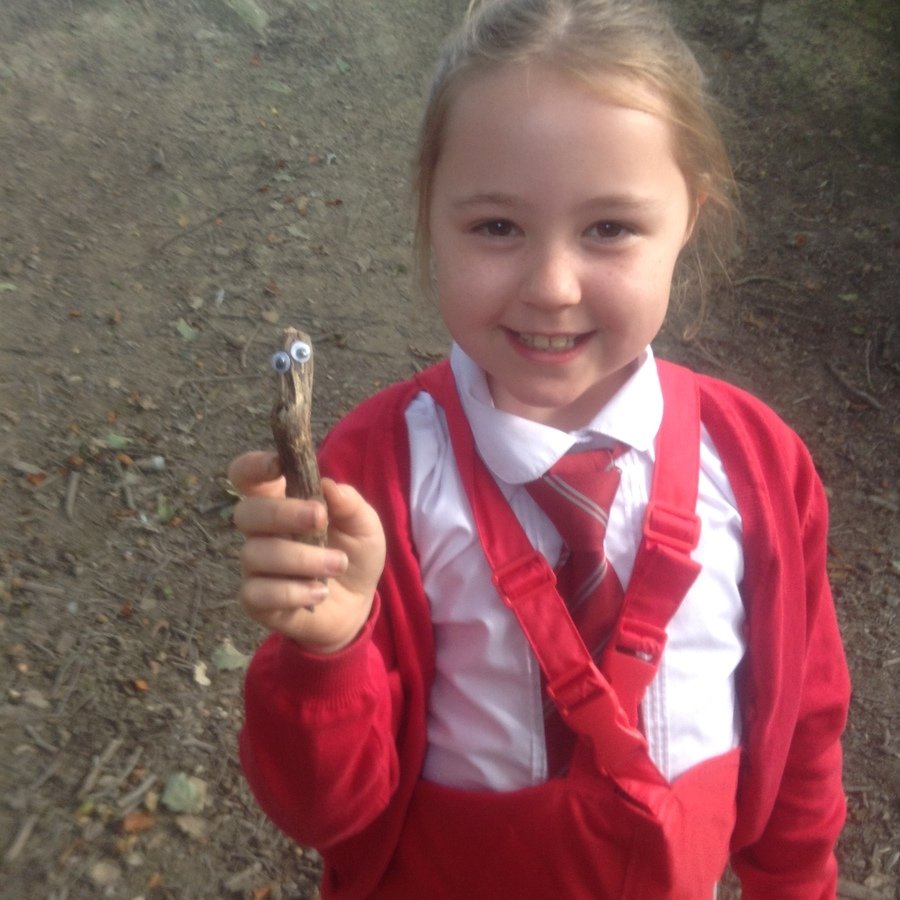 September 2020
It was such a beautiful Autumn day for our first Forest School session.
We were very excited so once we had all managed to get our waterproof suits on ....a feat in itself!!!!!! ..We walked down to the woods.
Lots of people were pointing out the views they could see and using words such as amazing, brilliant, stupendous and naturey!
We clambered over fallen trees and finally arrived.
We played 123 Where are you? to establish boundaries of where was safe to go. This is always a popular game and was requested over and over.
They were very eager to go and explore so off we went.
They were collecting acorns and hiding them, tasting blackberries which they decided to wash first, running up and down the bumpy terrain and having a really lovely time. Everyone had a drink and a biscuit at the forest cafe .
We all made pictures on the floor ...everyone put in a lot of effort. There were a lot of trees, acorns, forests, and sheep. Ruby and Aurora had recreated the landscape of the forest which was amazing.
We all had a lovely time and are looking forward to next week.
Below are some fantastic home schooling forest school work that Year 3 have done.
Here are just some of the photographs sent in.
Children were asked to create a picture using natural materials in their garden.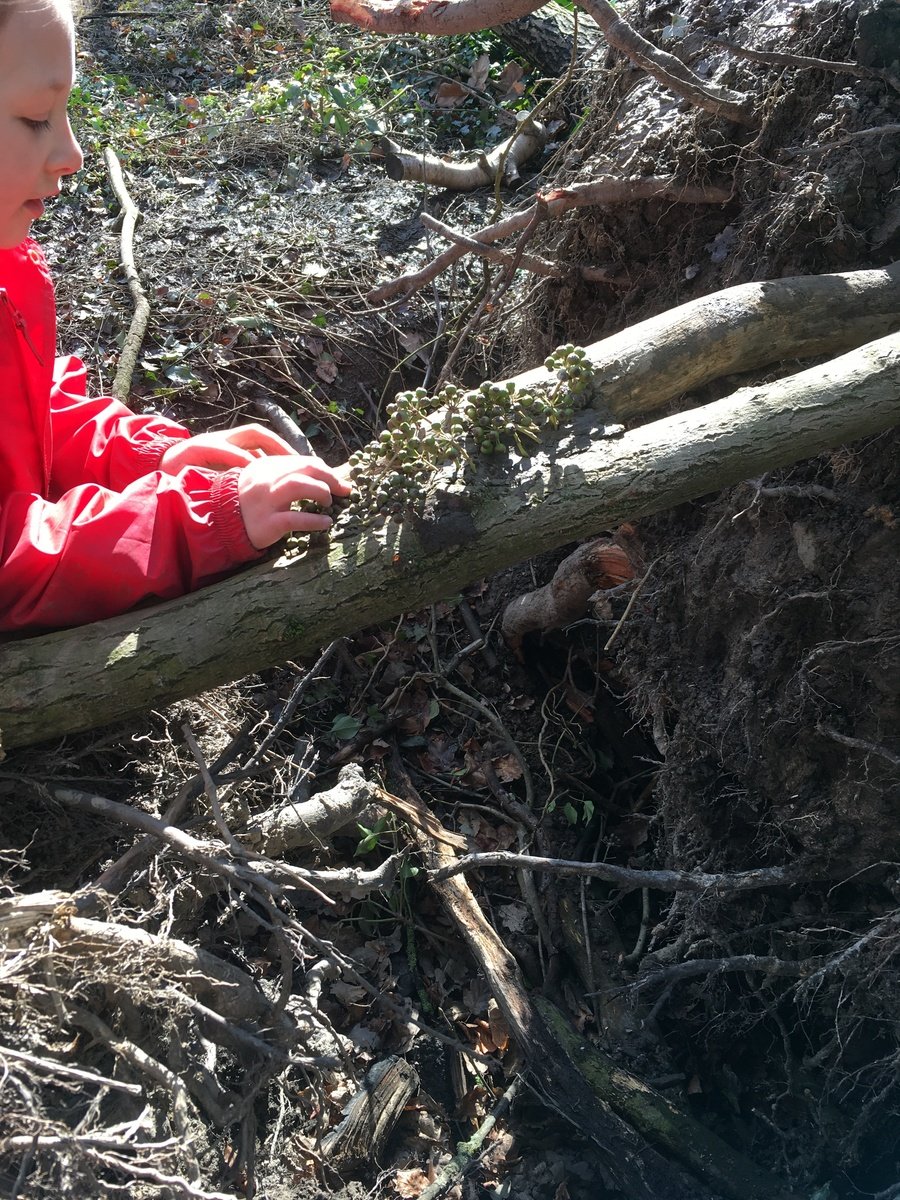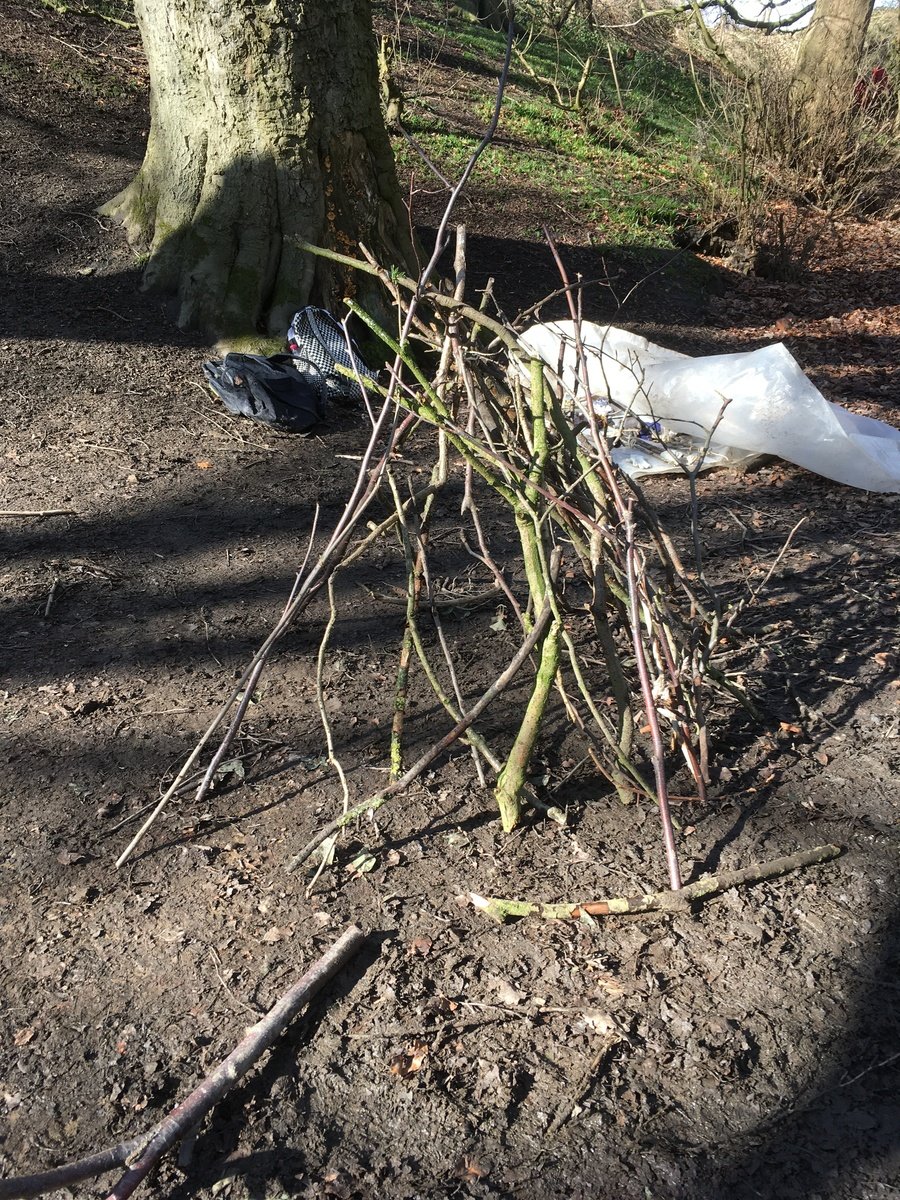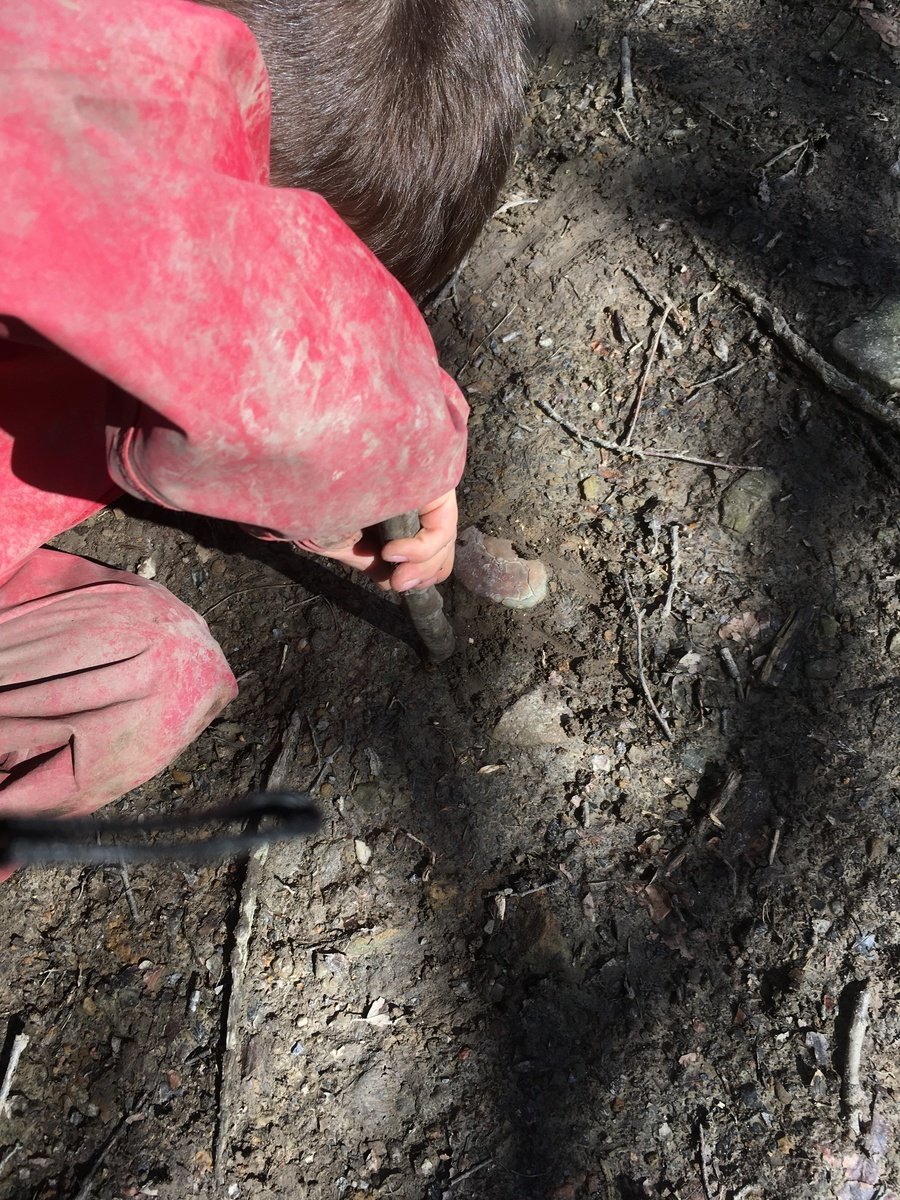 March 2020
We are so lucky to have this beautiful space to come to every week.
We are really seeing the seasonal changes and noticing how the extreme weather has affected the woods. The children are having a fantastic opportunity to discuss how the place changes over time.
This week we learnt square lashing which was interesting. It involved listening very carefully to instructions and trying to attach three pieces of wood to make a frame.....some were more successful than others!
Jacob L became very interested in the rocks he kept finding. He found one which he said looked like a sun stone from Egypt. We have given him the title of rock expert and I have ordered some books so that we can identify some of them.
More fungi has been found and identified as bracket fungi......it says in the news this week that fungi may be one of the only things that could help us breakdown plastic.
We are very good at lean too shelters and A frame shelters now. These children are really applying the skills they have learnt and have used the loppers safely this week to cut down brambles and clear spaces for dens.
They have also been making a bridge over the roots of the fallen tree. They have used the clay soil and some long branches to make a really solid bridge.
The weather is getting warmer. I have spoken to the class about wearing appropriate clothing. Some still have all their winter equipment which is now too warm. We will always wear the waterproof trousers and jackets but need to consider lighter layers for underneath now. Some children have really small welly boots which they struggle to get on and off. .....I think their feet have grown. If you could just check with them that they don't need a new pair.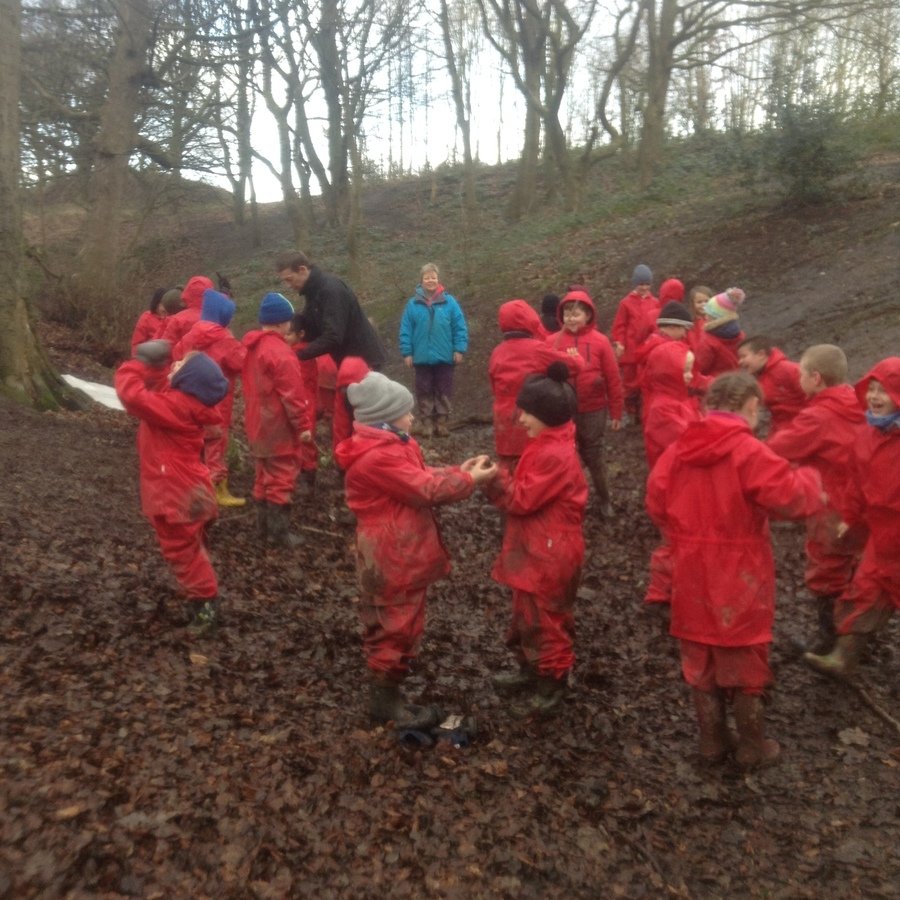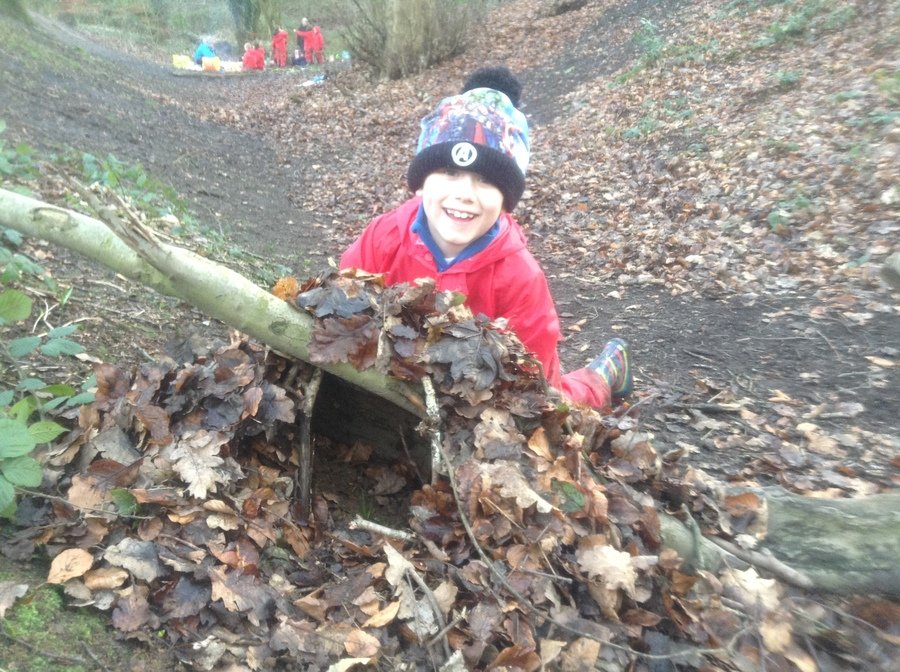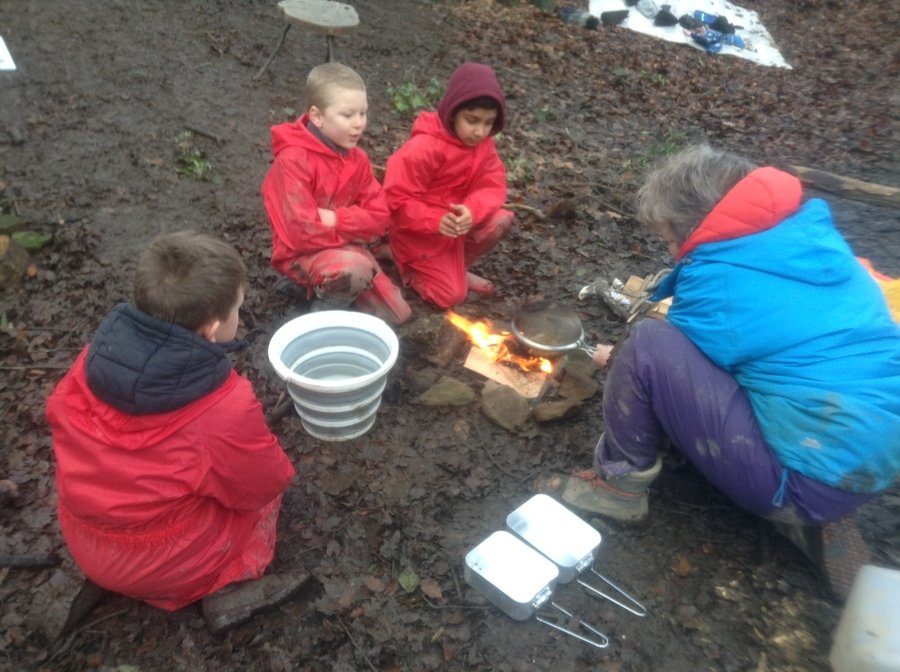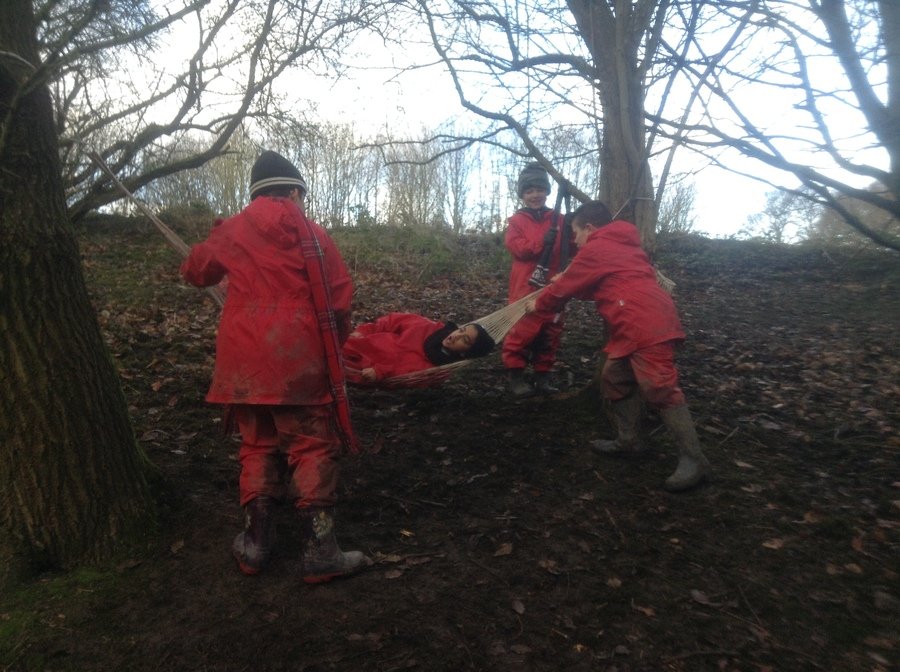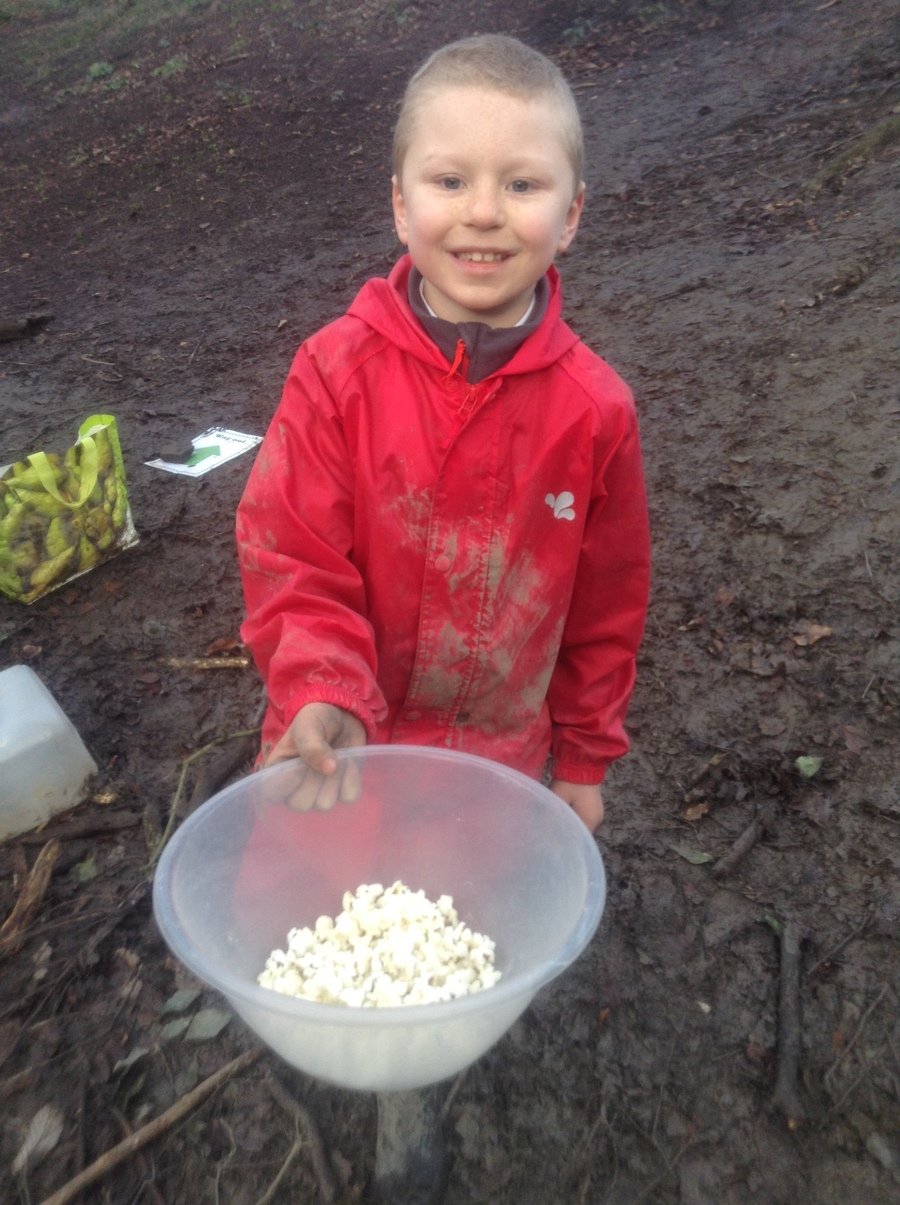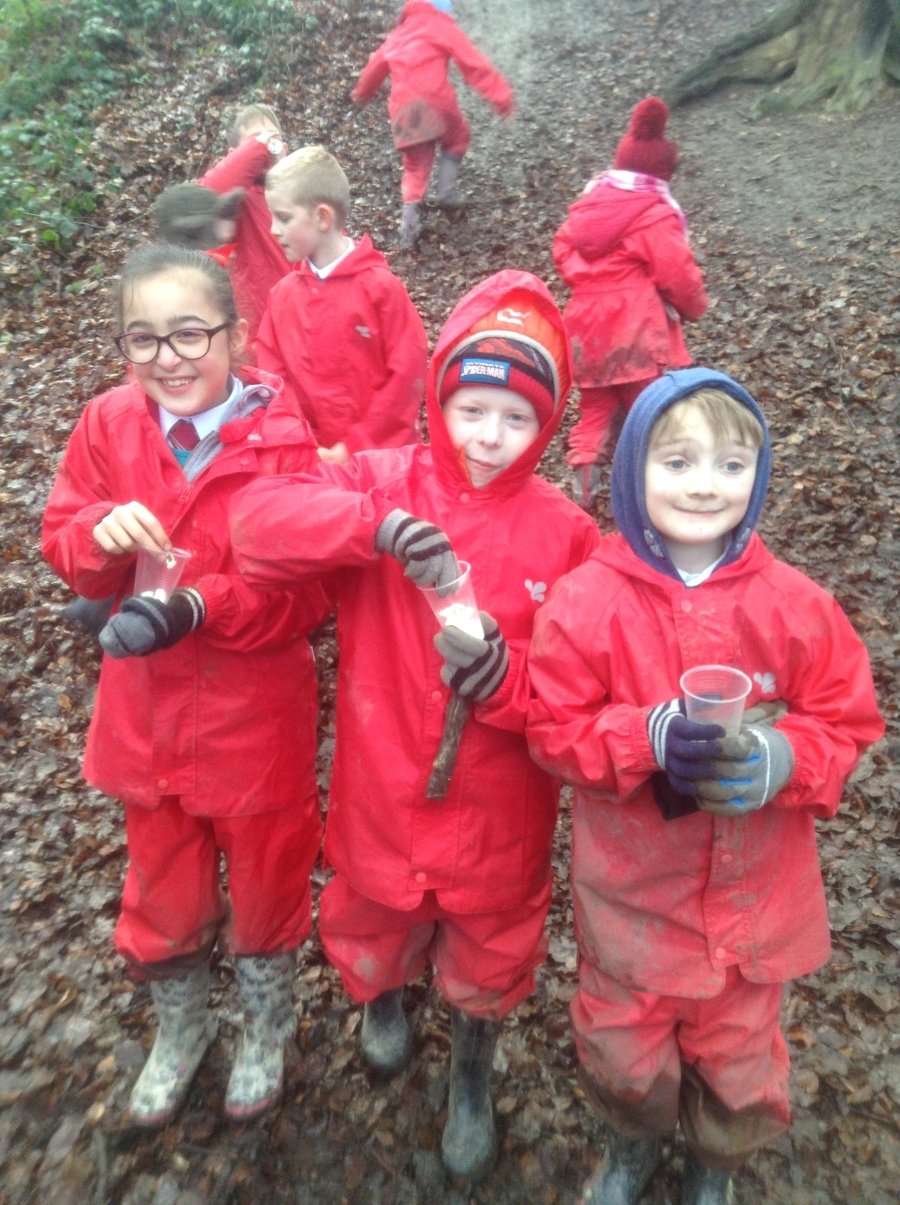 29/01/2020
Once we were all in our new suits we walked down to the woods carrying loads of things! It was a fire day today so we needed lots of dry wood.
We started by playing Ninja Stick and then talked about the rules of the fire circle and some safety information including first aid.
We lit the fire. It took a bit to get going but with Jakes support and encouragement we managed. We made some popcorn. Abdullah did suggest it was easier in the microwave but Hudson rightly said it wasn't as exciting 'cos we could see all the kernels popping.
There was lots of den making again ....the morning just whizzed by ...I don't know where time goes down there.
22/01/2020
We looked amazing in our new waterproof suits...we took a photo of them before they got muddy!
It was den making day today. we carried long sticks and logs through the woods and then used them to make A frame dens.
Some people got very carried away and made a small village! Others made a den that eventually could fit 26 people inside.
Oliver gave a tool talk for the loppers and these were in great demand for cutting off small branches so that the thicker parts could be used for dens.
Already this class are applying the skills they have learnt which is impressive.
We finished with a Ninja stick game which tested everyones reflexes.
Our new red suits make playing 123 Where are you a lot trickier but we managed.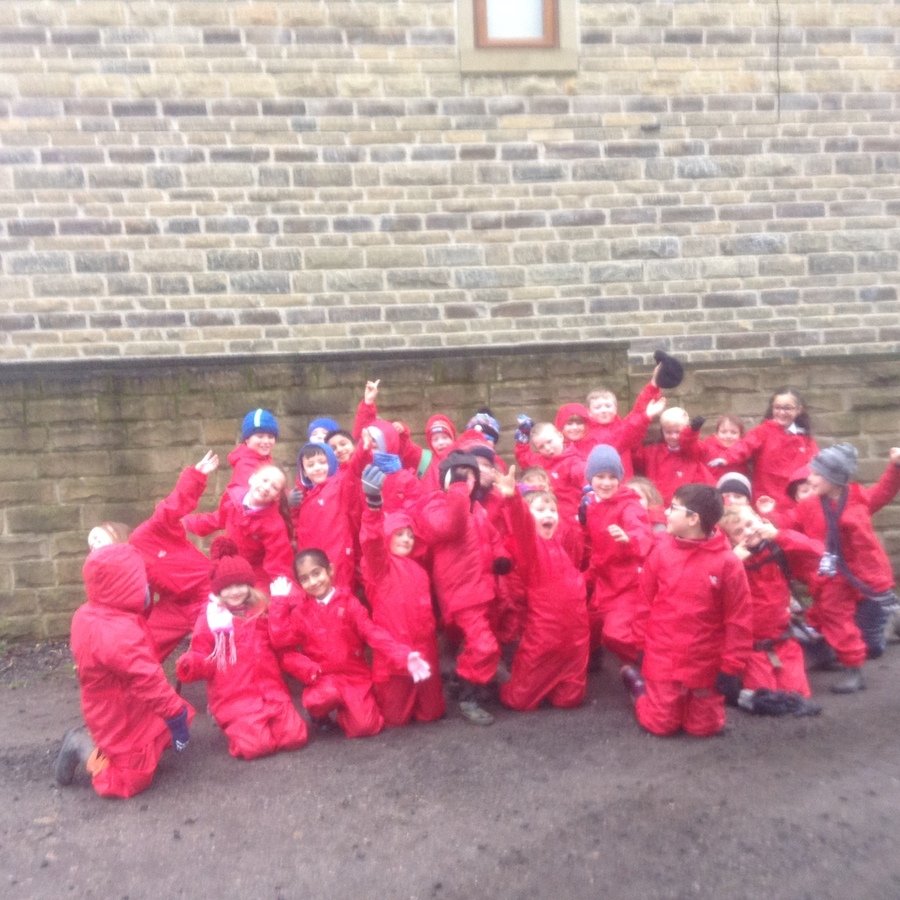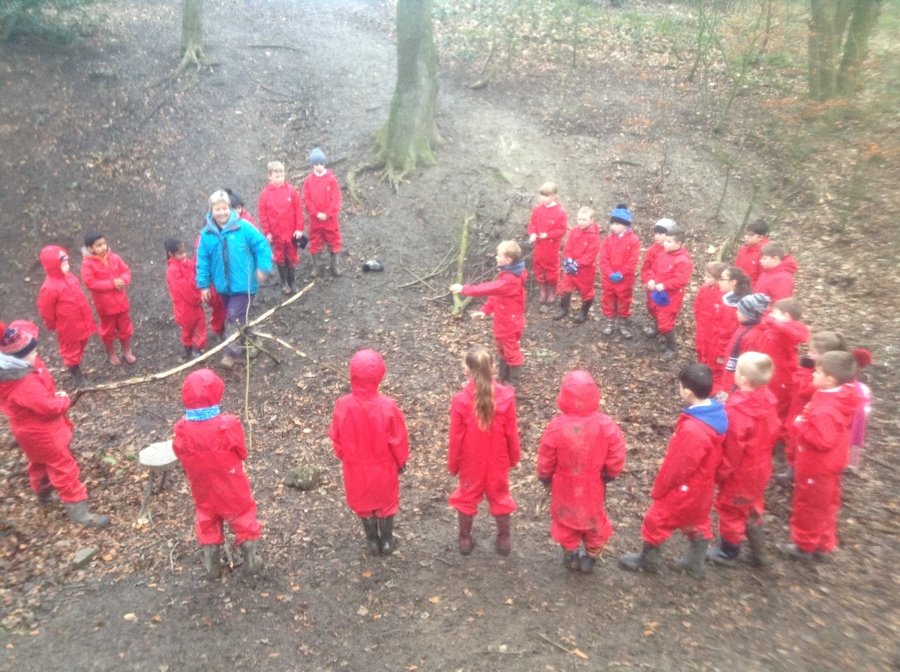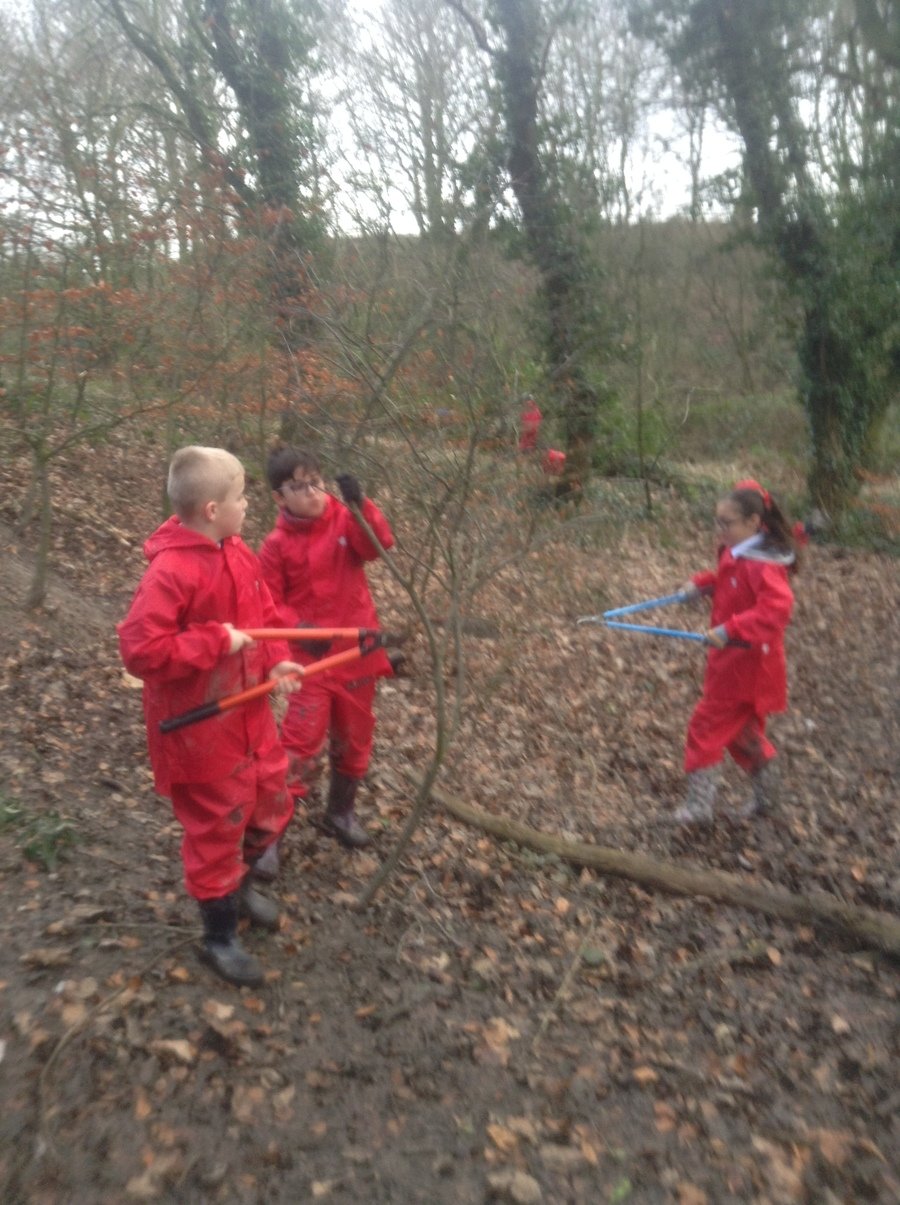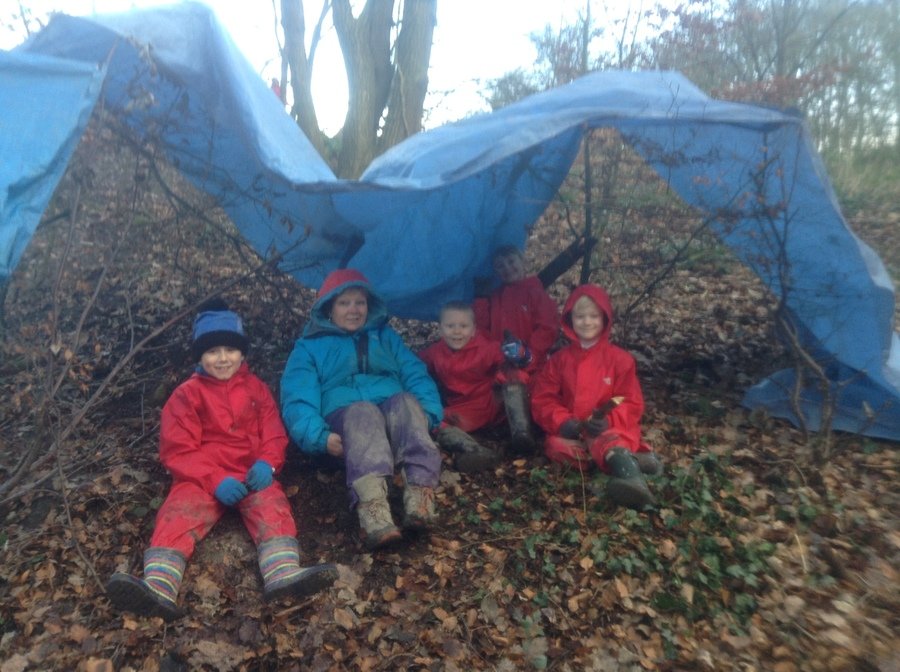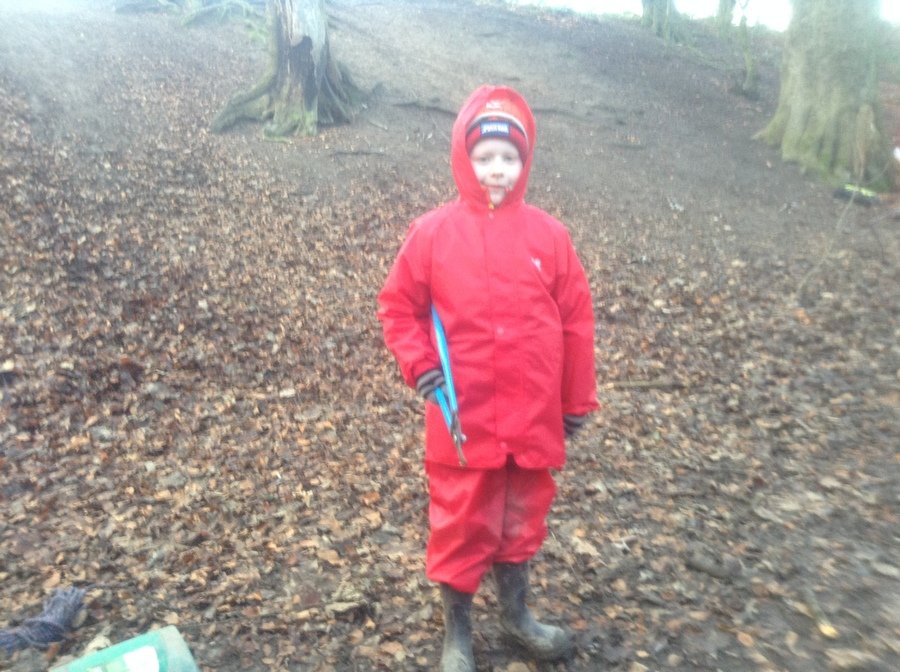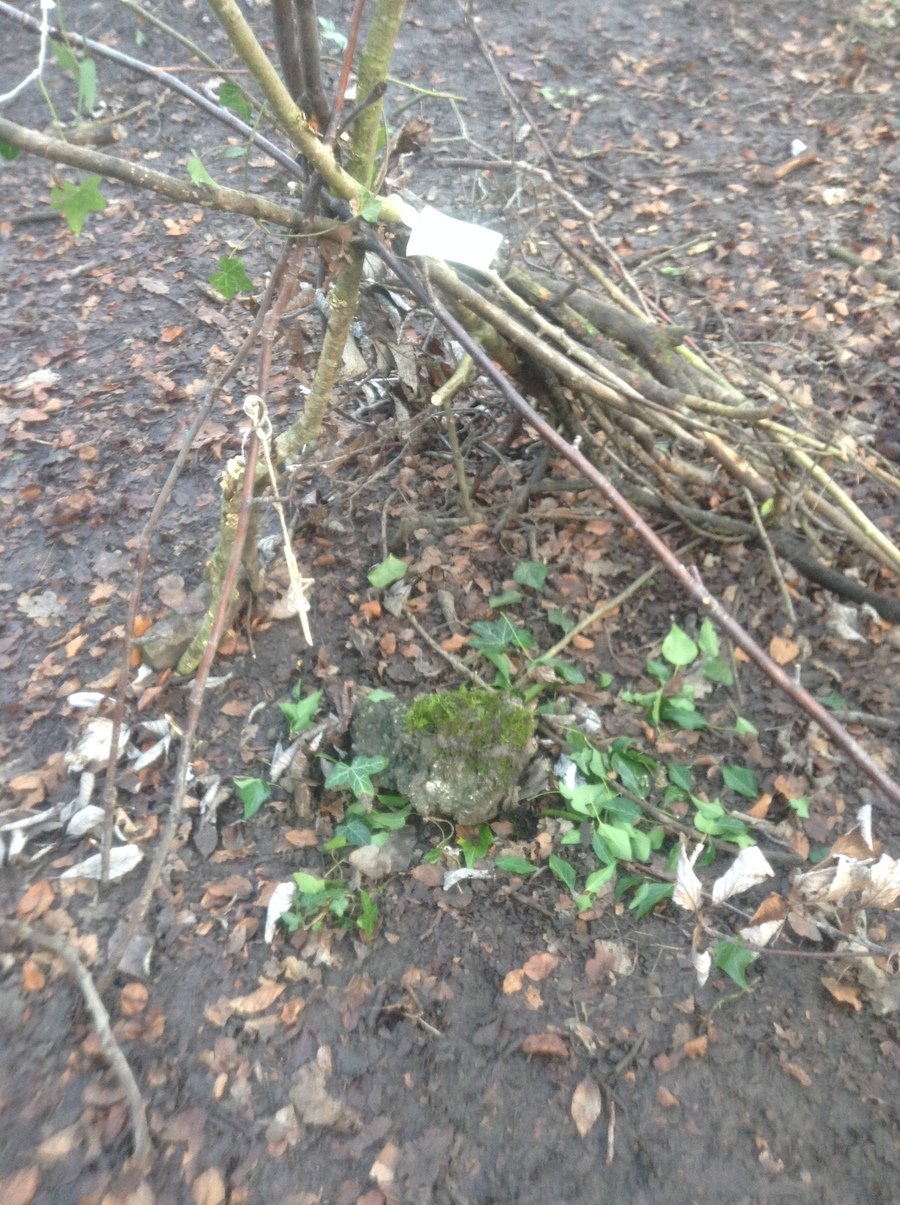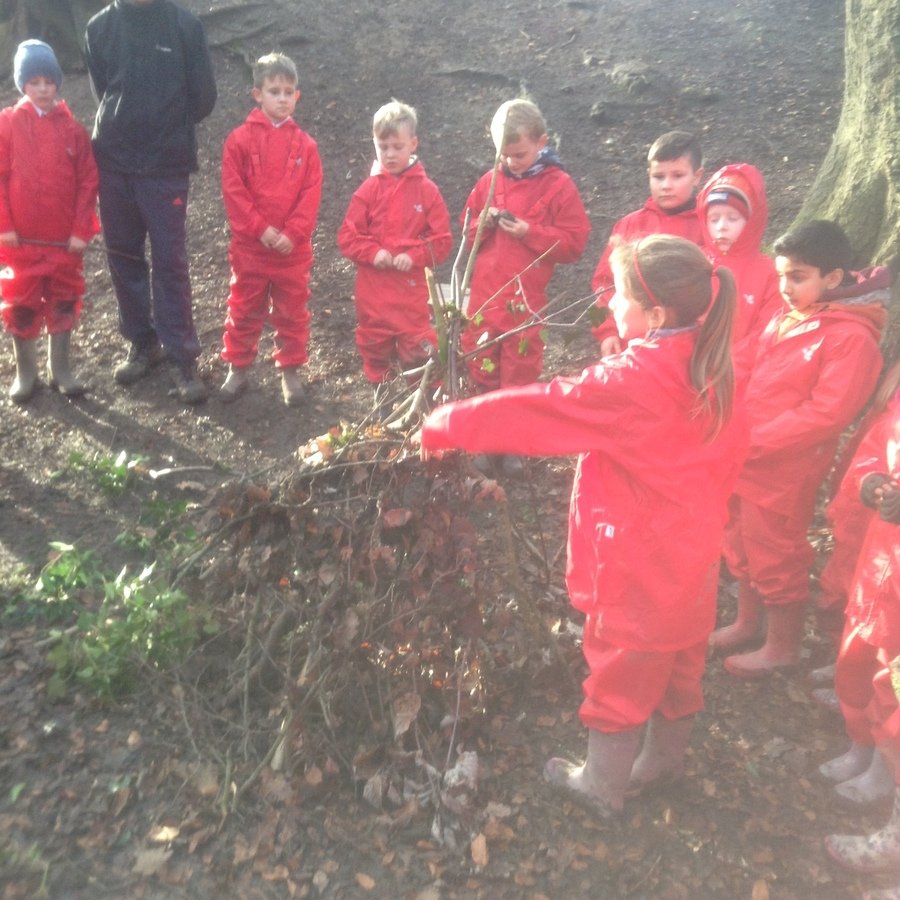 10th January 2020
Our first day back in the woods after the Christmas holidays. It was so mild! We noticed a lot of differences; the stinging nettles have died back so the path is wider, there is not as much mud, and the leaves were all on the floor and were dry and a grey colour.
Aston led us down again..he always picks the safest path.
We played a trust game where we all had to sit on each others laps around the circle...we all ended up on the floor!
I issued a challenge...who could make the tallest free standing structure? They were desperate to beat me. Joe used clay to help him attach sticks and make his taller. Abdullah, Ayaan, Hudson and Ryden worked for most of the session with some support from Mrs Harper...cheating!! and won the challenge.
There was a lot of tying of ropes with some impressive timber hitches being used.
Some people made stick curtains using objects they had found.
Lots of fun was to be had making big piles of leaves, hiding in them, jumping in and throwing them in the air.
We had to play "123 Where are you" of course and the piles of leaves provided great extra hiding spots.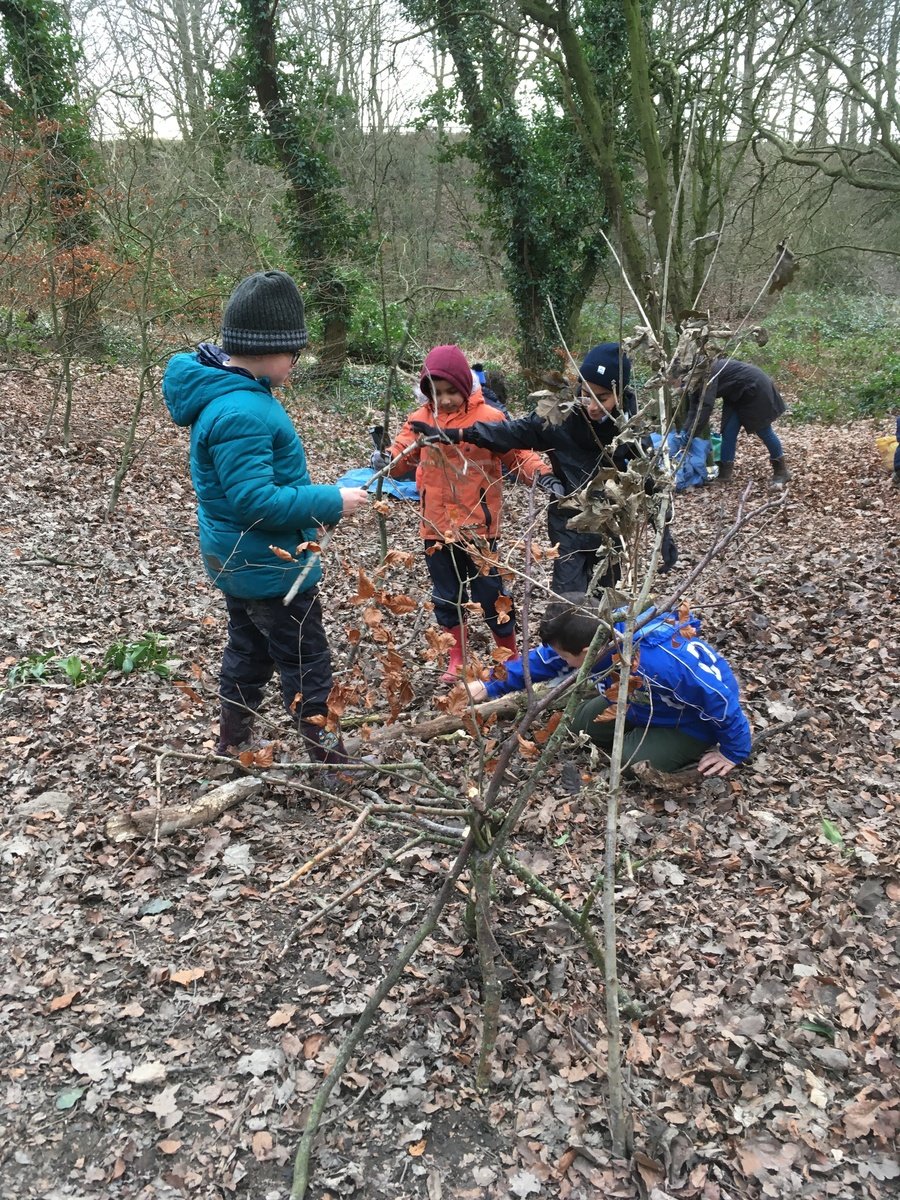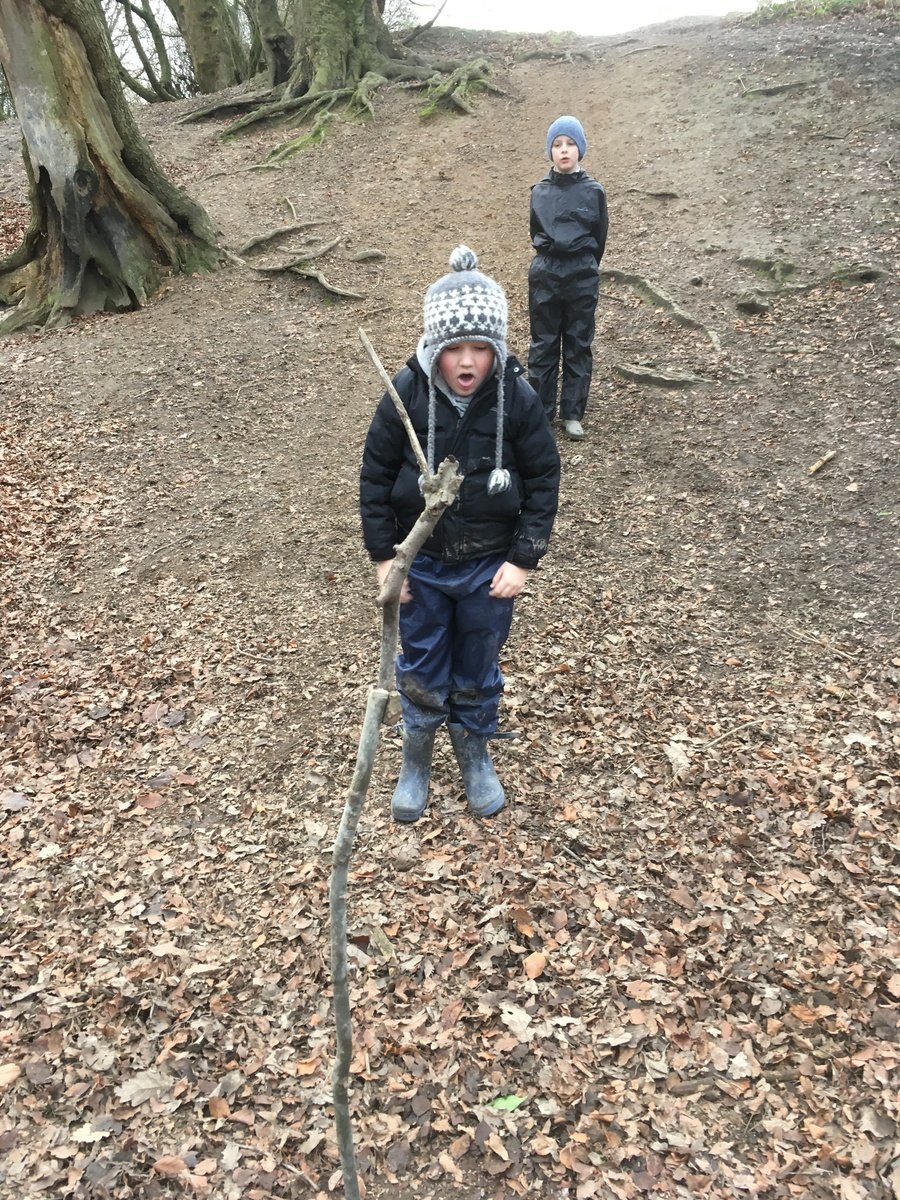 Dec 3rd 2019
What a beautiful, crisp, sunny day in the woods. It was gorgeous down there today.
Aston and Abdullah led us down to the woods and were risk assessing the conditions for us. We had to decide which way would be safest ....over the stream or down the hill. They were having some very interesting discussions.
Some of us made a Christmas stick Rudolph....we will continue next week. Joe made his own Rudolph using the clay soil.
We practised with the fire steels and showed great resilience in keeping going, they all think it is easy!!!!! Then they have a go and decide it is not quite so easy as they think. It is definitely a knack. They all support each other so well though, "keep going, I believe in you,"they say.
Our fascination with fungus continues. There are loads of different types in the woods and we have some intrepid spotters. We are taking lots of photos and want to make our own fungi book.
Benjamin was very brave and volunteered to be buried in a massive pile of leaves. They all worked together to collect leaves and made a new hiding place for when we play 123 Where are you?
Everyone kept their jackets on so hopefully we had no muddy uniforms!
Forest School
Wednesday 11th September.
We were all so excited! Myself included.
We all had good Forest School clothing on which was great.
We played 123 Where are you ....to establish some physical boundaries of where we could go. We each had a safe person so we could check if everyone was back.
We got into pairs and made a picture of ourselves on the floor.....traced bodies....we were quite surprised that we could lie on the forest floor!
Everyone was eager to explore so we had some time to do just that.
At the end our reflection was to say one word which summarised the morning...awesome...amazing...adventurous....natureful! were some of the words used.
We sat down at the end and listened to the first part of the story "The Little Grey Men." We all had a peep at Baldmoney the gnome.
Session 2
18/9/19
It was a beautiful day in the woods today.
We had a surprise when we arrived as there were lots of pictures of Baldmoney the gnome for us to find and he had been very busy making a special story stool for me to sit when we read the story.
We played 123 Where are you again and then we all learnt to tie a Timber Hitch which is an important self tightening knot used to attach a rope to a tree and very important in den making.
We all had a go tying each other up and then we could explore. Lots of people were keen to make dens and I was very impressed at the number of people who used the timber hitch in their den making. There was loads of problem solving going on.
We also learnt how to use a potato peeler safely to whittle a stick.
Lots of people made dens and furniture for the gnomes and we found a large hollow in an old beech tree where we thought that the gnomes must live. Brogann was very keen to set it up as a house ....to be continued next week!
September 23rd
Our third session was a bit more muddy than the others ....those are the best days!!!!
We do take a long time to get ready so we talked about how that then wastes time that could be spent in the forest! We will learn!
It was a very slippery walk but we all commented on the seasonal changes that we are beginning to see...leaves changing colour etc.
Everyone was very keen to make furniture for the gnomes and clear a space in the old beech tree to set it all up. Chloe made a swing and Hudson designed a garden.
I was impressed with the people who had remembered how to tie a timber hitch...it sounds like some brothers and sisters have been tied up!!!!! They used that knowledge to make a rope swing and also a rope that you could pull yourself up the hill on ....this involved some good risk assessment of the area as it was much more slippery in the mud and they thought it would be a good idea to have a helping hand up and down.
We also discovered that some of the soil is very clay based ...it was used to make small pots and pans for the gnomes.
Another lovely morning in the woods. The time flies down there and we are all disappointed when it is time to come back. It is a pleasure to take this class to the woods ...they are so enthusiastic and full of ideas.
2nd October
A lovely bright but chilly morning in the forest.
Some people were caught out by the cold ......they still had light summer jackets on!
On our way to the woods we collected lots of natural materials...beautiful red leaves, acorn cups and feathers.
We all embraced putting our hands into the sloppy clay and making faces on the trees with it...even Abdullah got his hands dirty! Everyone was very imaginative and produced detailed faces on the trees. We gave them names Pinocchio and Ryden Wilson were two of them.
We talked about the importance of fungus in the world as there are a lot of different mushrooms around at the moment. Some of us were very enthused and went on a fungus hunt using the books to identify them. We spoke about how we never touch them as we do not know if they are poisonous or not. We found lots of turkey tail fungus, lots of jelly ears and some crystal brain....the names are amazing. Lillyhas become our fungi expert ...she spent all morning looking for and identifying it.
There was a shop theme this morning ....lots of things being sold in return for a number of sticks..there was even a boot washing shop.
After a game of 123 Where are you? We settled down to listen to the next instalment of the little grey men. Baldmoney and Sneezewort have made their boat....but will they take Dodder up the stream with them?
October 9th
It was a very muddy day in the forest....those are the best days!!!!
We collected autumn items on the way to the woods...there were some beautiful leaves.
We talked about fire lays .....the waffle and the tipi.
Everyone was very keen to make dens and there are some impressive knots being used now. Some made rope swings and Sam helped to make a zip wire. He did his own risk assessment and decided that the rope needed to be tighter so he wanted to insert a stick at one end to make it safer.
There was lots of peeling of sticks and some impressive team work.
Rhys continued to use the clay soil to make an axe head...he had started that last week ...great determination and resilience shown.
It poured with rain on the way back. Some of us were soaked. We found out that thin cagoule type jackets become cold and wet very quickly.
Thank you so much for the dog poo posters....there have been so many. We are double laminating them and will put them up on the way down next week.