Hill Top Primary Curriculum Intent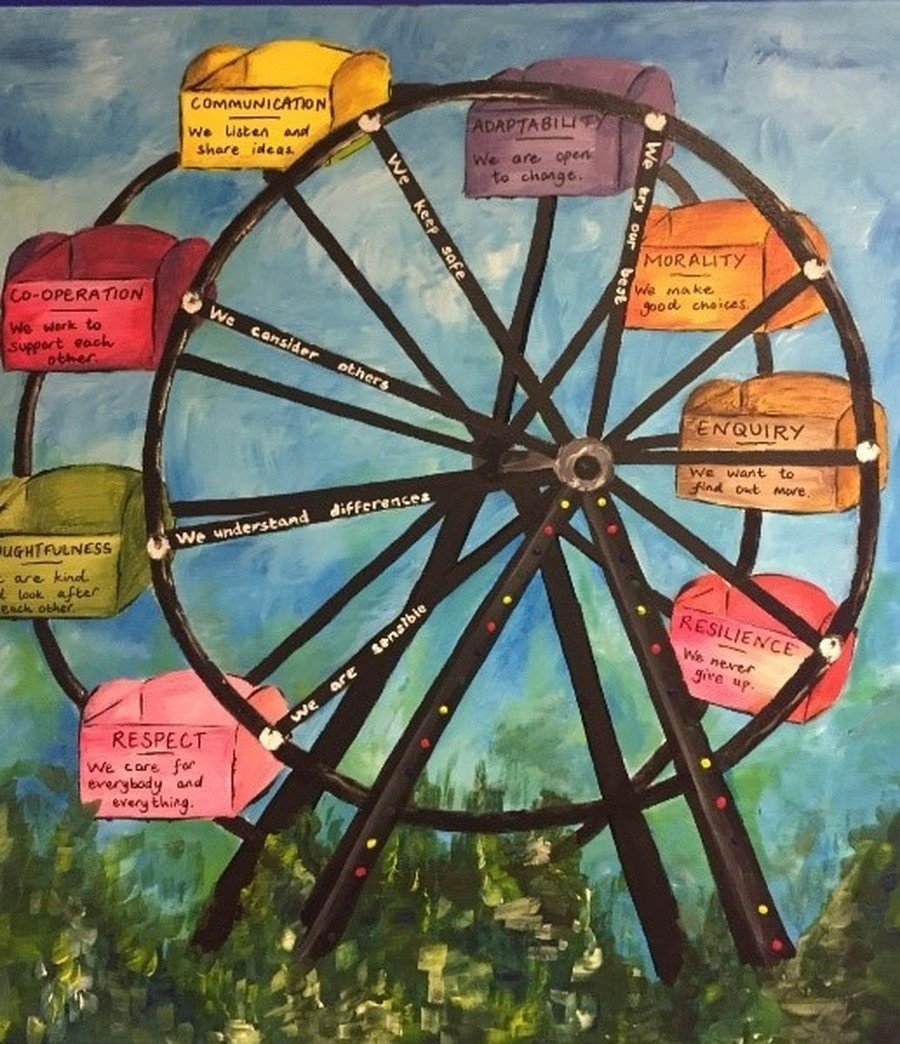 At Hill Top Primary Academy pupils' learning is at the heart of everything we do. The curriculum we teach is broad and balanced and offer pupils opportunities to grow as individuals as well as learners, in order to prepare our pupils for life beyond school in a diverse and ever changing world. Our aim is to provide opportunities for pupils to develop as independent, confident, resilient learners with high aspirations who know how to make a positive contribution to their community and the wider society.
At Hill Top, our ethos is underpinned by our eight values: adaptable, communicator, collaborator, enquiry, ethical, resilient, respectful and empathetic thinker. We encourage a philosophy of working independently and collaboratively with a positive mindset, where we view getting something wrong as part of learning how to get it right. Our curriculum is carefully designed to ensure coverage and progression, as well as focusing on the development of children's knowledge and skills across all subjects with the aim of ensuring pupils are ready for future learning and the challenges beyond Hill Top. Enjoyment of the curriculum promotes achievement, self-confidence and excellent behaviour where children feel safe to try out new experiences, and in doing so discover their unique and individual talents.
All pupils are challenged in their school life as our curriculum empowers individual pupils, regardless of their starting point and ability, to develop a passion for learning and a real thirst for knowledge. Pupils are given opportunities to rehearse and embed these skills daily. They are challenged not only to develop their understanding, but to master and articulate it. As a result, our pupils are successful, self-motivated, independent learners who love to learn.
The International Primary Curriculum (IPC) provides a framework for the curriculum at Hill Top alongside the National Curriculum. We provide a comprehensive, thematic, creative curriculum, with a clear process of learning and specific learning goals for every subject.
The curriculum is coherently planned and sequenced allowing all pupils to further deepen their knowledge, skills and understanding in all aspects of learning. We recognise that the key skills of reading, writing, oracy and numeracy are crucial in equipping our pupils with the necessary skills whilst the enhancement of the curriculum through the provision of a range of new and exciting experiences such as learning to play a musical instrument, participating in school performances, sporting events and a wealth of extra-curricular activities as well as educational trips, residentials and visitors to school is of an equal value.
Our curriculum provision raises aspirations through providing opportunities to deepen pupils understanding about where they live as well as being internationally minded which is defined as having an awareness of ourselves and others. We promote this through regular local and international fundraising events, charity work and through the participation in the Leeds Children's Mayor, Morley Cluster Council and Youth Summit meetings. Positive relationships with parents and the wider community is fundamental to children's development and we actively encourage this through exit points, parent workshops, school fairs and many more events planned into the school calendar.
We have a whole school strategic approach to the spiritual, cultural and moral development of pupils to make the world a better place. We feel it is important for our pupils to understand where and how they fit into the world here in Tingley. We believe a curriculum is about broadening minds, enriching communities and advancing civilisations.
At Hill Top, we place great importance on Inclusion which allows every child at Hill Top to develop and flourish on an equal footing. Inclusion means that every child at Hill Top is treated as equal and given equal opportunities to progress at their level and to access different and additional levels of support within the school. We embrace all religions, faiths, cultures, sexualities, race, gender, age or special need.

Pupil's leave Hill Top with a secure sense of belonging and with raised aspirations in becoming lifelong learners, which opens their eyes to the world beyond their immediate environment.
Curriculum Implementation
At Hill Top Primary Academy, our curriculum is taught through the IPC topics where the knowledge and skills of the National Curriculum are delivered. We teach the IPC curriculum as it inspires and encourages children's creativity, engages them in practical activities from many cultures and periods of history. To ensure that our ambitious curriculum is delivered to the highest standard, we carefully have designed, planned and implemented a curriculum that provides breadth, depth and balance whilst ensuring the curriculum includes aspirational and inclusive opportunities to enrich children's lives and those of our whole school community. We offer a wealth of experiences which contribute to every child receiving a full and rich curriculum whilst at Hill Top.

At the start of each topic we have an entry 'wow' task which immerses the children in the theme and gives them a hook – a motivation to learn and a knowledge harvest which provides opportunities to find out what children know. During the topic we encourage parents to get involved and invite them to participate in lessons and at the end of the topic we have an exit task which showcases the knowledge and skills the children have learned throughout the term – the learner becomes the teacher.
We design, organise and plan our curriculum to ensure that children are not merely covering content but achieving a depth to their learning which enables them to use their knowledge, skills and understanding in all areas of the curriculum. We ensure this by building in many opportunities for repetition and practise in every subject. Each teacher skilfully creates a curriculum led knowledge organiser which is centred around sticky knowledge which lays the foundation for future learning and progression. Knowledge organisers are an essential teaching tool and are revisited frequently.

To ensure every child receives an appropriate mix of academic and personal development which means that in practice our curriculum places equal importance on core and foundation subjects. We understand that children will not be successful learners unless they are emotionally secure. Children's physical and mental wellbeing are as valued and important as academic development. At Hill Top we adopt high standards in all subjects. Our full and rich curriculum, with its excellent range of experiences, ensures that every child makes excellent progress both academically and personally. Our broad and balanced curriculum ensures that every child is given the opportunity to shine and flourish.

Our assemblies and displays throughout school showcase and build confidence in children's skills so they truly appreciate the artistic side of their characters.

Sound subject knowledge of staff is a priority and all staff training needs are identified. All learning is effective and well planned as all staff have the opportunity to contribute to long and medium plans. Key Stage staff plan together ensuring a systematic approach building on previous learning. Strong emphasis is placed on reading with fluency and understanding so that children are able to access all areas of the curriculum. The progress of all children, including those with SEND and those in receipt of pupil premium funding, is closely monitored and the curriculum is designed to ensure that any identified gaps are closed. Outdoor learning, including Forest School plays an important role in the delivery of the curriculum at Hill Top. It is effective in breaking down barriers to learning by offering additional opportunities for experiential and practical learning.
Please click on the arrow on the Curriculum tab to see individual subjects