The adults working in Year 6 are Mrs O'Donovan, Mrs Stead and Mrs Secker.
Important information:
This half term our P.E days are Tuesdays and Fridays; however the children have been asked to make sure their P.E kit is in school everyday incase this changes.

Homework will generally be set on a Fridays and is due in on Tuesdays.

Children are required to read 3 times a week and have their Reading Records signed each time they read.

Planners and Reading Records will handed in on a Monday morning and need to be checked and signed by a parent/carer at the end of each week.
Our learning journey this year:
As a class, we discussed what we wanted our class mission statement to be.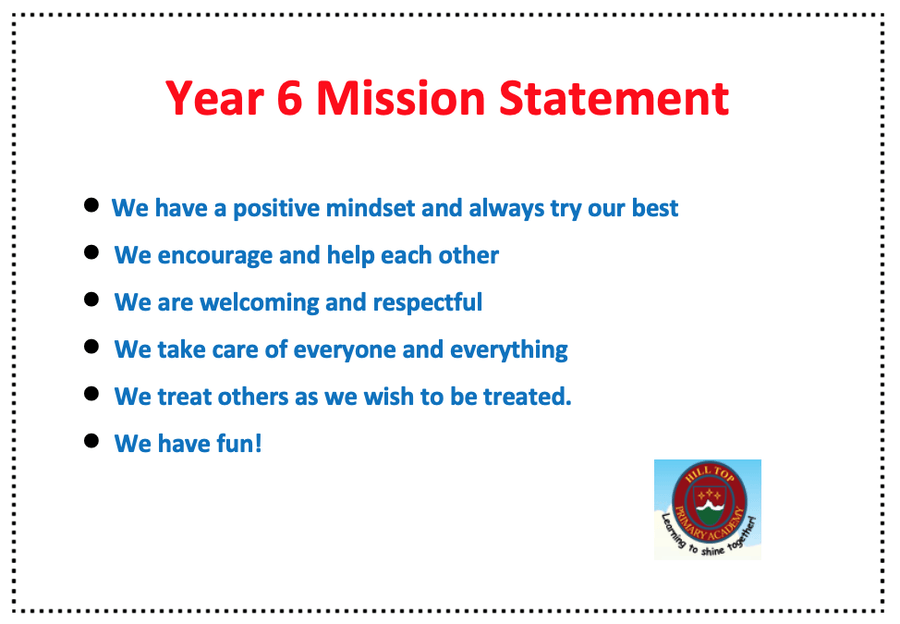 We have had a great week so far and enjoyed starting our first topic.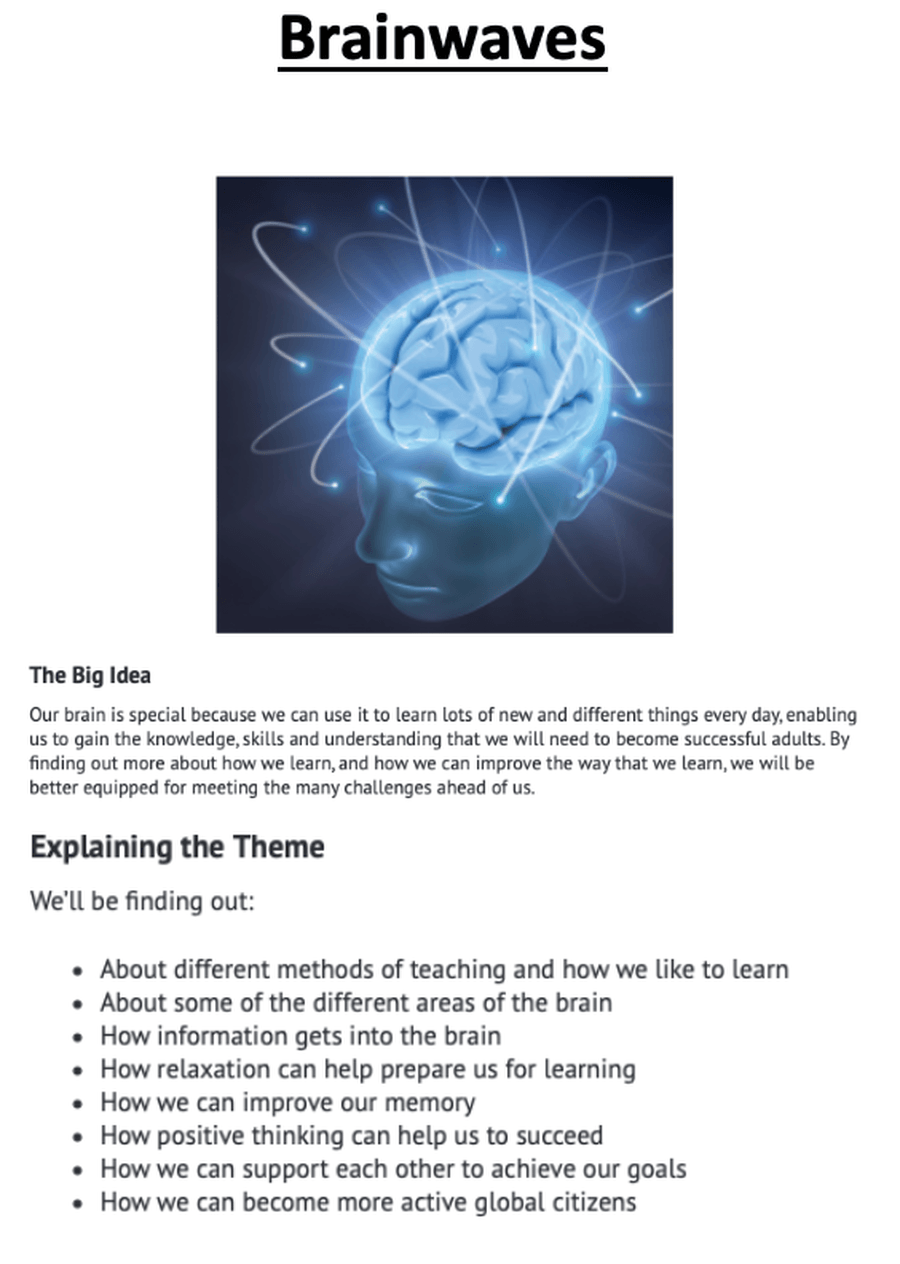 Entry Point
For our entry point to our Brainwaves topic, we played memory games to see how good our memories were. Our favourite game was the 'Generation Game' and we all remembered the cuddly toy!
Exit Point
For our exit point, we discussed growth mindset and how we could remain positive when we found things tough. We designed and painted positivity pebbles and made our own positive quotes, to look at throughout the year.
Our second topic this half term is
Out of Africa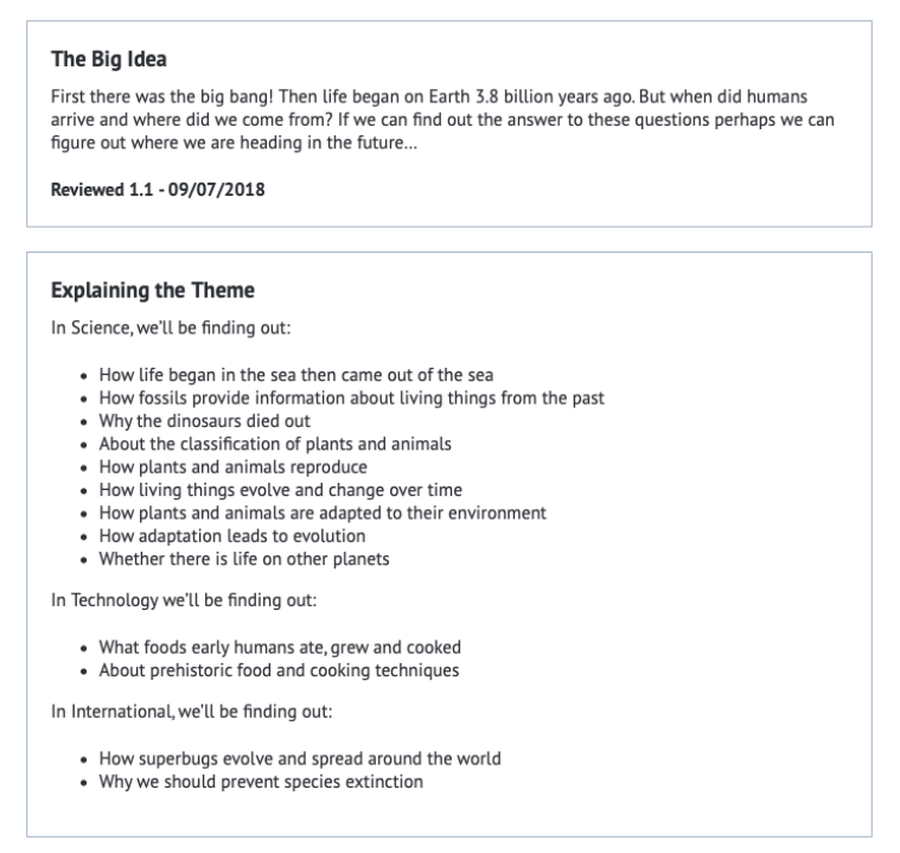 Entry Point
For our entry point, we made the shape of DNA - the double helix- using pipe cleaners, straws, play doh, beads, pompoms and blue tac.
The children were asked to focus on four key questions:
What is 'evolution'?

Where is the evidence for evolution?

What is meant by 'adaptation'?

Why is there so much diversity of life on Earth?
We started at the very beginning with early signs of life and worked through geological time from the Cambrian period to the present day. Along the journey we looked at the dinosaur age in the Mesozoic era and visited Africa 200,000 years ago to trace our human ancestors.
Charles Darwin
As part of our topic this half term, we have been learning all about Charles Darwin, how he travelled aboard the HMS Beagle and his idea of evolution and changes that lead to his book, 'The Origins of Species'. Before we wrote formal letters, some of us became Charles Darwin, whilst the rest of the class asked questions about his journey and discoveries. Here are a few photographs taken from our 'hot seating' lesson.
Thursday 10th October was Mental Health Awareness Day and as part of this we discussed the difference between our physical and mental health and what strategies could be used if we or anyone else felt upset, down or angry. We completed an activity to decide which strategies would work best and then in pairs acted out a scenario about a boy called Joe, who was finding everyday life difficult and how his friend's advice helped him.
For our exit point, we were lucky enough to visit the National History Museum on our trip to London. During our visit, we examined fossils, uncovered the bones of dinosaurs, learnt more about Mary Anning and Human Evolution.
We had an amazing five days in London last week. Here are some of our highlights.
Our Topic in Autumn two term is
Fairgrounds
For our entry point to our new topic Fairgrounds, our task was to build a ride that could be built at a new fairground/theme-park. We used Lego, K-nex and wood to build our rides.