Welcome to Year Two
The staff in Year Two this year are: Miss Monaghan (Mon - Wed), Mrs Butterworth (Thurs and Fri) and Miss Mattinson (Teaching Assistant - all week)
Please check our class page regularly to see what we have been doing in class and for any updates.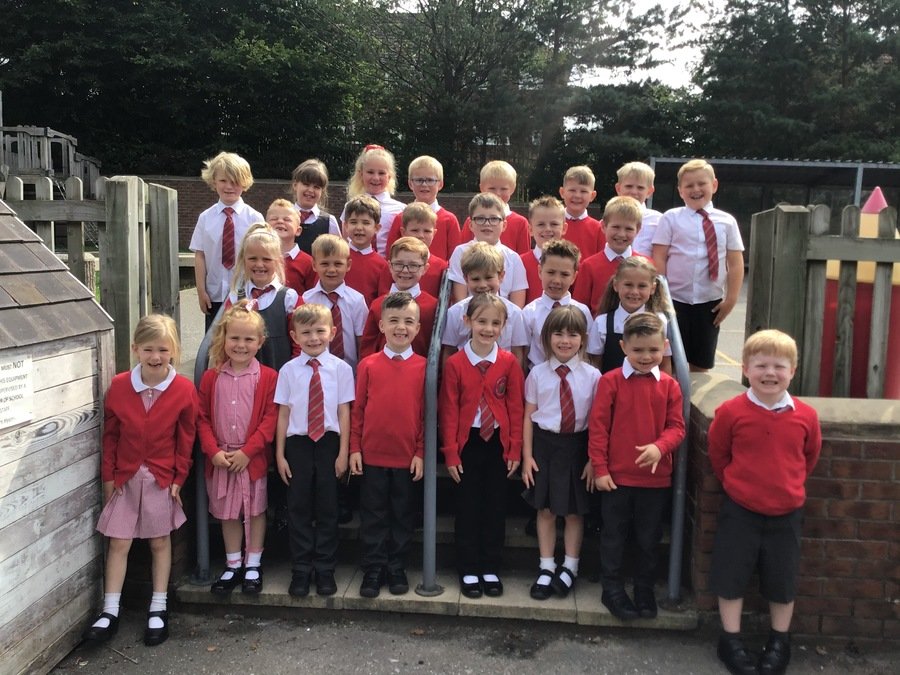 Autumn 1
Brainwaves - Our first topic in Year Two was Brainwaves.
We learnt about how to keep our brains healthy, how we learn new skills and how important it is to not give up!
Entry Point - We did some brain exercises in the playground to learn about how we keep the brain healthy.
Earth Our Home
All living things – plants, animals and people – have a home or somewhere to live that we call a 'habitat'. A habitat can be huge like the ocean or small like a leaf. To survive, living things need to live in places that meet their needs. What do living things need to survive? How do different habitats provide for their needs? We will need to be scientists and geographers in order to answer these questions.
In Science, we'll be learning about:
What living things need to survive.

Animal classification.

Habitats and living things we can find in our local area.

Different habitats around the world.

How living things are suited to the habitat in which they live.

How plants and animals depend on each other.

What a micro-habitat is and the living things we can find in them.

The nutrient cycle.
In Geography, we'll be learning about:
How we know places and habitats are changing.

How humans are changing the landscape.
In Design, Technology and Innovation, we'll be learning about:
How to make a nesting box for bees.
In International, we'll be learning about:
Threats to the world's habitats.

How we can help conserve and protect habitats.
In Art, we'll be learning about:
Colours and patterns animals use to camouflage themselves.

Artists who have painted particular landscapes and habitats.

How to use art to promote awareness of global issues.
Entry Point - We created our own Earth Collages as a team. We looked at real images of the Earth to distinguish between land and water.
In English we created diary entries pretending to be the Old Man. We thought about how he would feel when his dreams come true.
ART Task
After reading the Tin Forest, we created our own forest scenes depicting the tin forest and the real forest. We thought carefully about our colours.
We did some 'hot seating' and asked the Old Man questions. Some of the children did a super job at pretending to be the Old Man and imagining what his answers would be.
We have been learning about different endangered animals and the reasons why they are endangered. We created our own speeches during our English lessons and then performed them as the animal for the class. Have a watch!
This week we have been looking at 'Here We Are' by Oliver Jeffers. It is a book of notes about how wonderful our world is. We read the story and then thought about what we would want to tell people about the world.
Entry point - Stories People Tell
We were given story boxes during our Entry Point. They were filled with props for us to create our own story out of. We planned them and then performed them to the class.
Hansel and Gretel
We looked at traditional tales this week. We drew a story map to show the sequence of events for the tale of Hansel and Gretel.
Kings and Queens
This afternoon Year Two have loved getting creative!
Earlier in the week, the children designed their own crowns and this afternoon they followed their plans to make them. They have done a fantastic job!
Children in Need
It was lovely seeing everyone dressed in yellow/spots for Children in Need. The children really enjoyed today, especially writing their own stories about Pudsey in creative writing.
Fantasy Worlds
This afternoon the children made maps for their own fantasy worlds based on some of the stories they have looked at so far this term. They used symbols and pictures to represent different features and used directional vocabulary to direct their friend around the map. Everybody did a fantastic job!
When the snow arrived....
Reindeer Run
The children had lots of fun today raising money for Wakefield Hospice.
A huge thank you to Santa for letting the children chase him around the playground!
Christmas Jumper Day!
Today Year 2 enjoyed coming to school in their Christmas jumpers to support Save the Children.
This morning the children learnt about why we have Christmas jumper day and what happens to the money raised.
How are You?
In How Are You?, we will be taking on the role of biologists, nutritionists, historians and sportspeople to explore the many ways that we can look after ourselves and try to stay healthy. How can we maintain a healthy body and a healthy mind?
In Science, we'll be learning about:
- Maintaining a healthy diet
- The importance of getting enough exercise
- How our muscles work
- How our senses help to keep us healthy

In Health & Wellbeing, we'll be learning about:
- Why our bodies need sleep
- What happens when we are ill
- How germs and illnesses spread
- How to protect our bodies The importance of staying hydrated

In History, we'll be learning about:
- The doctors and scientists who discovered important medicines
- Diseases from the past

In Physical Education, we'll be learning about:
- What activities we can do to stay fit

In International, we'll be learning about:
- Why some people don't have clean drinking water
- Health issues in other countries
Entry point - In groups the children made their own fitness circuits and then wrote up their instructions for others to follow. They all did a fantastic job.
Healthy Food
This afternoon the children have really enjoyed learning about the different food types and finding out about why we need them. The children then designed their own healthy plate making sure they included the right amounts from each food type. We were all feeling very hungry by the end of the lesson!
How to Stop Bacteria Spreading!
Today the children have enjoyed learning about the different type of germs and carrying out their own experiment.
They worked as a team to come up an experiment to find out the best way to stop bacterial germs from spreading. The children decided to wash their hands in different ways but made sure they kept it a fair test by using the same amount of glitter, glue and water. Then they predicted what would happen and carried out the experiment.
The children concluded that the best way to wash our hands is with hot water and soap.
How germs spread
After looking at how to stop germs from spreading, the children wondered how germs spread in the first place, so we did an experiment!
We rubbed pieces of bread on different objects in the classroom: the carpet, a pencil, a ruler, the toilet seat, a tablet, on our hands, one on our hands and on our hands we had washed with soap and hot water.
Each day, we checked the slices of bread to see if they had changed in colour or appearance, due to the effect of the germs. The children were amazed by what we found out!
Exit Point
This afternoon the children really enjoyed discussing everything they had learnt about being healthy. In pairs the children used what they have learnt to make their own poster to promote healthy living.
People of the Past
In People of the Past, we will be learning about a variety of significant people who left a lasting impact on humanity through their hard work, resilience and creativity. As historians, we will investigate the lives of several influential figures to find out about the personal qualities that enabled them to shape the world as we know it. As musicians and artists, we will be producing pieces inspired by the lives and works of famous composers and painters, thereby exploring the elements that made their creations so ground-breaking. Throughout the unit, the children will be encouraged to reflect: How are our lives different thanks to the work of these significant people?
In History, we'll be learning about:
- Using a living graph to explore how a person from history might have been feeling
- The life of a famous explorer using maps and role play
- Comparing the lives of two different explorers
- The difficult decisions that rulers had to make in the past
- The achievements of important scientists and inventors
- Spoken and written communication technologies that have developed over time
- What life was like at different times in the past

In Music, we'll be learning about:
- The life and music of a famous composer
- How to use music to tell a story

In Art, we'll be learning about:
- What someone's portrait can tell us about them
- Comparing and contrasting the work of famous artists
- How to paint a scene in the style of a famous artist

In International, we'll be learning about:
- The idea of 'fairness' and what it means
- The qualities and skills needed to be an effective leader
World Book Day
Year 2 have loved today!
Thank you so much for getting involved and helping the children design some fantastic t-shirts.
During assembly we had a surprise visit from Book Man who had lost his power to know every book ever written and he needed our help get them back!
During our workshop we had to guess the story by using Book Man's props. The children did an amazing job at naming lots of different stories they had read. We then did lots of freeze framing to create some of the stories.
In the afternoon the children had chance to share their books they had brought in with thier friends.
Tomorrow we will be using these books to write our own book reviews to encourage others to read them.
Science Week
This week, schools all across the country are celebrating Science Week. The theme this year is 'Growth'.
As part of this theme, Hill Top decided to use investigative skills to learn all about trees. We are very fortunate here to have lots of trees around our school environment. Year 2 had a really fun afternoon in the wonderful sunshine; using our observational skills to look really closely at how trees grow, working out the identity of some trees using clues and also watching closely to see which insects and animals live on and around our trees. We have even found out how to work out the age of a tree using a tape measure!! All of our scientists worked really well. Take a look at some of the photographs below.
Yellow and Blue Day
It was lovely to see the children in yellow and blue today to support Ukraine. This afternoon they've also enjoyed making some beautiful sunflowers.
Exit Point
The children have absolutely loved today (even more so with the added snow)!
It has been fantastic to see the children's enthusiasm about the people they have learnt about this term. All of the children enjoyed researching their famous person this morning to produce a fact file which they then shared with the rest of the class. Also from the information they found, we made a human time line.
Summer 1 Entry Point
'Hooray, We're Going on Holiday!'
This term our topic focuses on the wonderful subject of holidays. Through this topic, the children will use historical and geographical skills to investigate how holidays have changed over time and develop their knowledge about the world and the United Kingdom ,comparing similarities and differences of a holiday resort in the UK with a contrasting place. The children will be using maps and atlases to identify the UK and its countries as well as the continents and oceans of the world.
Today the children have explored our Travel Agents in the outdoor classroom. They have booked holidays to a variety of destinations, completed passport applications, designed and built Lego hotels and dressed up in appropriate holiday outfits.

Additionally, using the wonderful resources from our Scrap Shed, the children worked in small groups to design different forms of transport to take them to a holiday destination.


Lots of fun was had by all!
Diving!
We were very lucky this week to be visited by Leeds Diving, who taught us some of the skills we need to be a diver.
Learning about the 50's
This week, each year group were given a decade from the Queen's reign to research.
In year two we had to learn about the 50's. The children have loved learning about the clothes worn, music people danced to and the films that were released. Some of the children's favourite facts were that most people didn't have colour TV and that people listened to the wireless!
The children had a go at learning the hand jive and were also very lucky to get to see a record player and listen to some 50's music on vinyl. We couldn't resist having a little dance too!
Jubilee Celebrations

We have loved today's celebration!
We had lots of fun taking part in lots of different British games and celebrating on the field with scones!

To end our week learning about the Queen, the children also made their own coaster to commemorate the Queens platinum jubilee.
D Side
Today we were very lucky to have a visitor in our class who taught us about lots of different things.
First we looked at how we are different to our friends and what makes us unique. We then looked at how we can keep our bodies health and learnt about how our bodies worked. Once the children had learnt about the different parts of the body, they had the chance of putting a body back together. They did a fantastic job!
To finish our visitor taught us the car wash game! The children loved 'showering' their friends with compliments as they travelled through the car wash.
Marvellous Materials
In Science this half term, we are learning all about everyday materials. Over the last two weeks we have learnt about some of the different materials and their properties. Today we looked at how some of the materials are used round school and discussed why we through those materials were chosen. The children loved getting outside to see what they could find and there were some fantastic discussions!