Welcome to Reception!
Staff working with us this year are:
Miss Kerry
Teaching Assistants: Mrs Hudson and Miss Nicoll
Teaching on Monday afternoons: Mrs Harris
Welcome to Reception! Our Early Years Unit allows for a high level of child initiated learning to take place, in which they can experience how and why things happen. Within the unit,you will see children working in a variety of areas creating their own learning or accessing focused activities.
Children have free flow access to four areas; these include the Reception room, Messy room, Nursery room and the Outdoor area.These areas will be continually adapted and enhanced to meet children's current interests and to promote further learning. We very much involve the children in this process so they develop a sense of ownership. The children will have access to the Outdoor Learning Area at all times of the day so please make sure children have suitable clothing and footwear.
Clapping for our NHS and Keyworkers
We recorded our weekly clapping to say a huge 'thank you' to the people who are helping us.
VE Day 75th Anniversary Celebrations
We may not be at school together to learn about and celebrate this year's very special VE day, but that hasn't stopped Reception! We have made bunting, had picnics, dressed up in red, white and blue and even found out about our grandparents and great-grandparents in WW2. We hope these pictures make you smile.
Reception's Butterflies!
31st March 2020- Our first chrysalis has transformed into a butterfly! It was one of the chrysalises that had fallen onto the floor, so as a result it has a slightly crumpled wing, but these usually straighten out after a good stretch around!
1st April 2020- Our second butterfly has hatched! Can you see him stretching his wings in the video?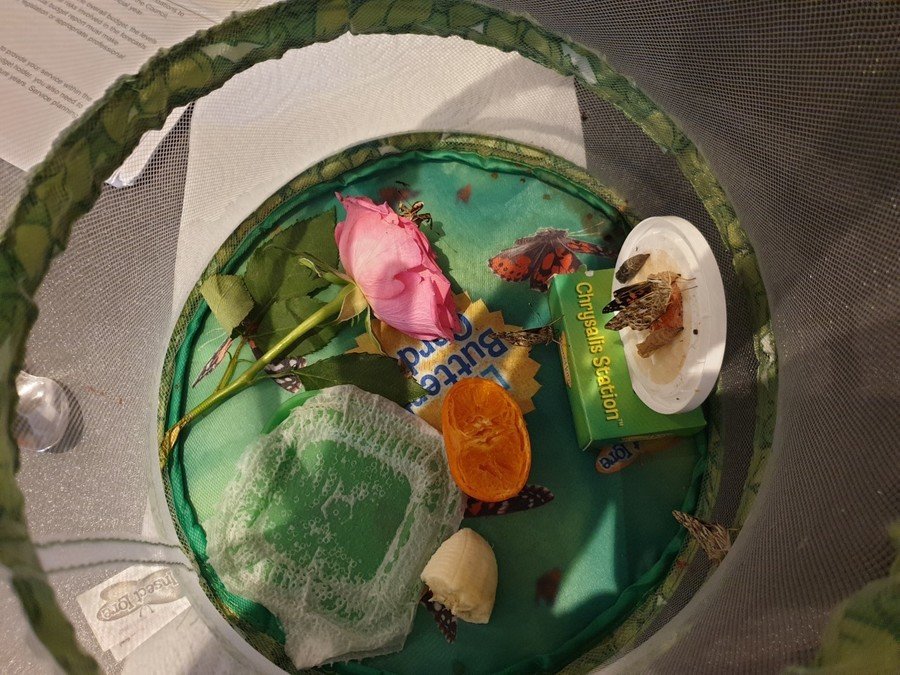 Our caterpillars have moved home!
In the midst of a very strange time, our caterpillars have now moved to Billy's house, as he was the Star of the Week for our final week. He is taking great care of them and is kindly sending us updates and photos of what is happening. They have changed into chrysalises and will soon be moving into a new house, their butterfly net.
31st March- Billy said, "we haven't seen any change yet, we have had a very good look at them with a magnifying glass and taken photos and zoomed in, we think they are changing a bit and one looks like it might have a little crack in it. We hope the butterflies come out soon!"
WORLD BOOK DAY 2020!
We have also enjoyed WORLD BOOK DAY! We each designed a t-shirt around our favourite book. Have a look at our fantastic designs!
March 2020
We have enjoyed reading the story, 'Jack and the Beanstalk,' as our class book and have done lots of work related to this.
This week, we have each planted our own beanstalks and made a castle for it to grow up to!
Stick Man! Our Drama Workshop
Today we took part in a drama workshop around the story, 'Stick Man'. We really enjoyed it and learnt lots of new ways to use our bodies to tell a story.
Hand Washing!
We used glitter to show how germs can spread from our hands when we cough or sneeze, to our friends and then everything else! The glitter began with one person and soon spread around the entire classroom! We were shown how to wash our hands thoroughly, singing 'Happy Birthday' twice whilst we rub the soap in, and how to dry them to stop the spread of germs. Once we had washed our hands like this, the glittery germs had gone!
Place Value Socktonauts!
As part of our Maths work looking at the number eight, we made our own Socktonauts! We recycled old socks and turned them into octopuses.
February 2020
We looked at the British artist Yinka Shonibare and his amazing circular artwork. We were inspired by his African influence of patterns and made our own.
January 2020
Welcome back! We have been learning about arctic animals and have read the stories, 'Lost and Found' and 'The Last Polar Bears.'
As part of this we have made igloos, painted penguins, learnt polar bear facts and so much more!
In Maths we are learning how to add and subtract numbers. We have enjoyed using the CBeebies series, NumberBlocks!
Christmas in Reception!
We had a very busy December period! We had a Christmas party and met Santa Claus, performed a sing-a-long for our families, made cards and calendars and had Christmas lunch!
Our first few weeks in Reception
We have had lots of fun settling into our new class! Here are some photos of us enjoying our learning.
Meet our fish!
So far we have two fish called Rosie and Jim. We are all learning how to take care of them and what we need to do to keep them happy. They have inspired lot of fishy art work too!
Baking and cooking
Every Friday we make, bake, cook or design something! So far we have iced biscuits and made sandwiches. Here are some photos of our delicious food.
Autumn
We are learning about autumn this week as lots of children have enjoyed finding things outside. We have made beautiful trees using the light box and are building a tree as a team!
Wildlife Garden
After reading the story, 'Stanley's Stick', the class were desperate to make something of their own with a stick! We spent a fabulous morning in the woody wildlife garden exploring the great outdoors! We each collected things that we found interesting and used them to create something using a stick.
Our fabulous Bird Feeders!
We each made bird feeders using oranges and placed them in the wildlife garden! We had to stay very quiet and still to persuade the birds to visit whilst we were there. It was very tricky but we heard lots of beautiful bird songs and even saw some flying above our heads!
Sorting and Art
We have been so busy! In Maths this week we are sorting objects into different groups and explaining our rules. We are also looking at the British artist, Bridget Riley, who is famed for her stripes and pointillism. We had a go at making our own Bridget-inspired images.
EYFS Maths Workshop!
Thank you to all the parents and grandparents who joined us for our Maths Workshops!
The winner of the competition was Jax.