Reception 2020-2021
Reception teacher: Miss Kerry
Reception Teaching Assistants: Miss Nicoll
Other adults in class: Mrs Jones and Miss Richardson
Spring 1- Stomp, Roar, Here Comes a Dinosaur!
Dinosaurs at home!
We are enjoying our home-learning dinosaur topic work. We used an app to bring dinosaurs back to life and tell us facts about themselves. Here are a few examples of our work:
Luke told about his rather scary dinosaur...
Maggie told us some facts about a brachiosaurus.
Anand turned himself into a tyrannosaurus rex!
Asher told us about a t-rex!
Poppy's dinosaur told us about herbivores and carnivores:
Noah's writing and picture told us about how big a t-rex was!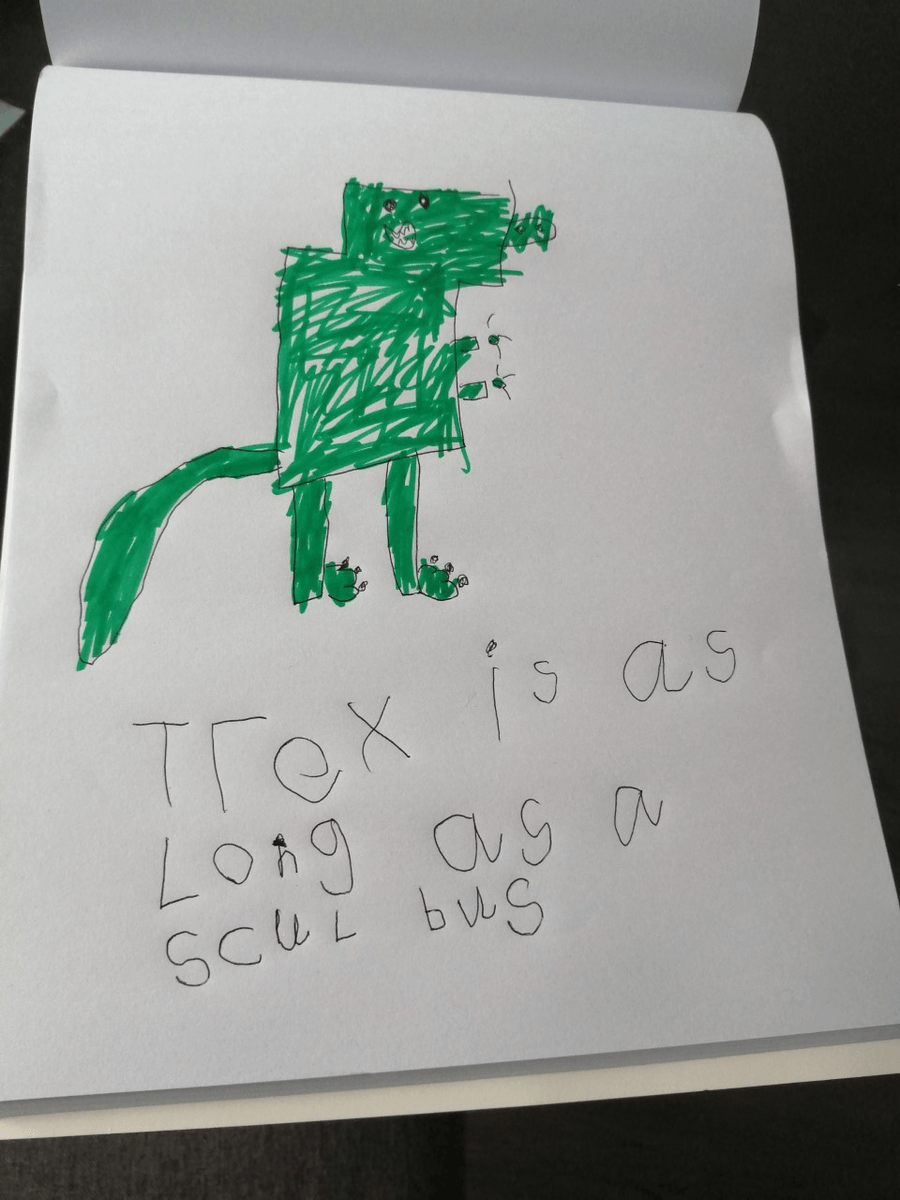 Thea's dinosaur told us about his siblings. She also spoke with a stegosaurus!
Rose spoke with a very friendly tyrannosaurus rex!
Phoebe made herself into two very friendly-looking dinosaurs!
Lucas spoke with a stegosaurus!
Autumn 2- Autumn and Winter!
Reception Nativity
This week we rehearsed and performed our version of the Nativity story. We each had roles and lines to say and were brilliant actors and musicians. We have thoroughly enjoyed this and have even kept the costumes out to make our own plays during provision time!
Parents have been emailed a link to view a recording of our nativity.
Christmas Party!
We had so much fun at our Christmas party and it was great to dress up and dance together. We played lots of party games, had crisps, chocolate and juice. At the end of the afternoon we met Santa Claus, who visited our class and gave each of us a present.
Ice- Science
We conducted a science experiment to find out more about the melting process of ice. We put blocks of ice in different places around the classroom and outsider area and monitored them to discover if they melted at different rates in different areas. We noticed that the ones in the warm room and on the radiator melted much faster, and explained that this was because heat makes things melt.
Christmas is upon us!
We decorated the Christmas tree, each of us placing a bauble on and working cooperatively to place the star on top. We also read the first Christmas story and are using the nativity scene to role play the story.
Diversity and Respect
We read the story, 'it's ok to be different,' by Todd Parr and each found something that was different about us from our friends. We used the saying, "our.... is different and that's ok!" to describe our uniqueness and difference.
We learnt about being proud of the things that make us unique.
Take a look at some of the wonderful learning taking place in Reception this half term...
Cornelia Parker
We were inspired by the artist, Cornelia Parker, to create hanging sculptures. We each made one string and when we placed them together as a team, we were very impressed at how colourful and interesting they were.
Our Focus Number: 2
We are learning about the number two and are gaining a deep understanding of what '2' means. We created concept boards to familiarise ourselves with what 'two' looks like and the different ways it can be represented. We also learnt about 'pairs' and how this links to the number two. We found lots of odd and even things around the classroom and have found that using Numicon is really helpful with this. We used the numicon to work out two was even, as it had an even-top!
'Stanley's Stick' by John Hegley
This week we have enjoyed the story, 'Stanley's Stick'. Today we visited the wildlife garden to collect our own sticks to turn into something amazing! We had lots of fun collecting sticks and exploring the mud and trees.
Bonfire Night: Why do we have bonfires?
Today we learnt the reasons why people will have bonfires and fireworks tonight. We found out about the famous Guy Fawkes and the naughty things he did to the King. We made our own bonfire pictures and talked about bonfire and firework safety.
It was lovely to hear children coming into school the next day saying, "I held my sparkler as far away from my body as I could..." and, "we put water out for the sparklers...".
This half term we have shared things about ourselves and found out about our friends in Reception. We have shared our favourite books and foods, told each other about the special people in our families, discovered more about the area we live in and thought about what we would like to be when we grow up.
Here are some photos of us enjoying learning through provision so far.
Our Favourite Foods

We are enjoying the story, 'Oliver's Fruit Salad,' and are thinking about our favourite foods, and if they are healthy or unhealthy choices. We each made a shopping list of healthy foods we would like in a fruit salad, and once Miss Kerry had bought them from the shop, we made our very own healthy fruit salads!
World Mental Health Day
For world mental health day this October we thought about how we might feel in different scenarios. We looked at different facial expressions and body languages that give us clues to how people feel. We acted out scenarios that might happen in our classroom, such as someone pushing in front of us in a queue, a friend letting us share a toy and finding that our picture was broken, and discussed how best to resolve these.
Maths
Our Maths topics this half term have focused on 1-1 correspondence, counting to ten, the wonderful world of one and repeating patterns. We have enjoyed learning through provision and expanding our knowledge of counting.
Black History Month
For Black History month we learnt about Usain Bolt and Jesse Owens; two famous athletes who inspired us! We painted pictures, made medals and held races to see who was the fastest. We celebrated their achievements as inspirational people of colour.
We are all Artists!
Our inspiration artist of this half term is Bridget Riley. We painted some stripes and spots, inspired by her colourful work. Take a look at our photos below.
Writing with your child at home- a quick guide
Topic- Friday 15th January
Phonics- Friday 15th January
Group 1- Tricky Word I
Science/ Art- Thursday 14th January
Dinosaur skeleton
Phonics- Group 1
Wednesday 13th January
Phonics for Group 1
Tuesday 12th January
Phonics for Group 2-
Monday 11th January
Tricky words
Phonics lesson- Group 2
8th January
Looking at the 'ch' phoneme.
Phonics Group 2- 7.1.21
A recap of Phase 3, set 1 sounds.
Phonics Lesson- Group 1 7.1.21
Phase 2 recap
Please note this lesson is in two parts. You will need to watch both videos.
Phonics for all- 6.1.21
Phase 2 and 3 flashcards
Welcome to our classroom!

Take a look at where we spend our days.
Information about our class for Reception parents: