Nursery
We are looking forward to working with you all this year in Nursery.
Our staff are-
Janet Blakeley- Early Years leader and Nursery Teacher.
Jennie O'Leary - Full time Nursery Teaching Assistant.
Tina Flannigan and Louise Nicoll- Part Time Teaching assistants.
Faye Wilde- Part time Teaching assistant.
Mrs Evans - Volunteer.
Miss Milnes who is a PGCE teaching student on the SCITT course.
Monday 10th Sept.
All our existing Nursery children have been keen and eager to return to Nursery. We have made a few changes and introduced everyone to our pet snail. It is called Sparkle and if anyone would like to volunteer to snail sit on a weekend for us we would be very grateful.
It is very easy to look after and comes with instructions! He/ she loves cucumber and likes to have its shell gently brushed with a toothbrush.
We are gradually welcoming more and more lovely new children who are settling very well and are enjoying our new construction area and the mud kitchen!
Lots of parents came to join in with our Maths Workshop
We have been reading "Goldilocks and the Three Bears." Mummy Bear helped us to make some porridge. It was yummy!
We have been playing at being in a boat, catching sharks. We built the boat and sang the baby shark song.
This is an outline of what the children will be learning up until the Christmas holidays.
November 2018
We have been enjoying exploring the wildlife garden. We have been developing our physical skills by pulling each other up on the hilly ground and tackling all the uneven surfaces.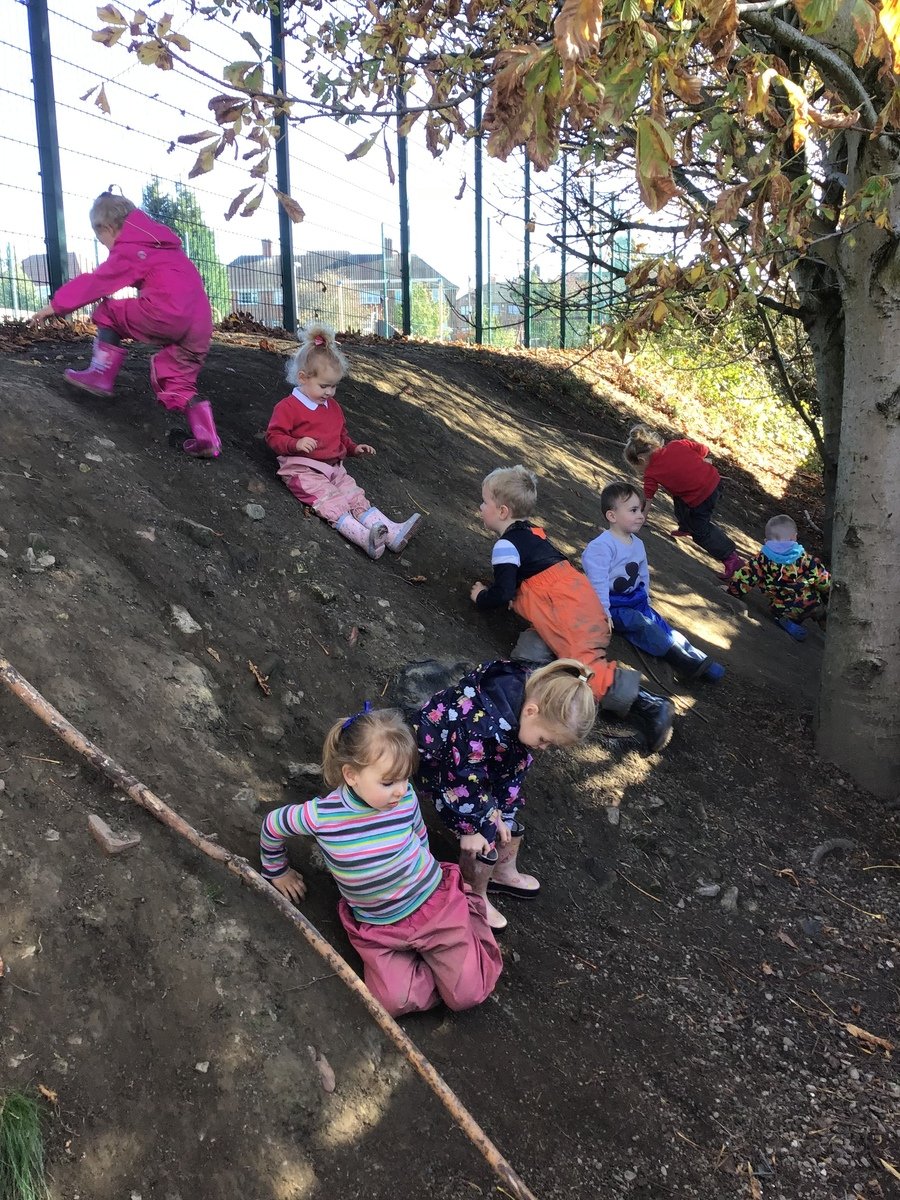 We have been investigating rolling and sliding on different surfaces.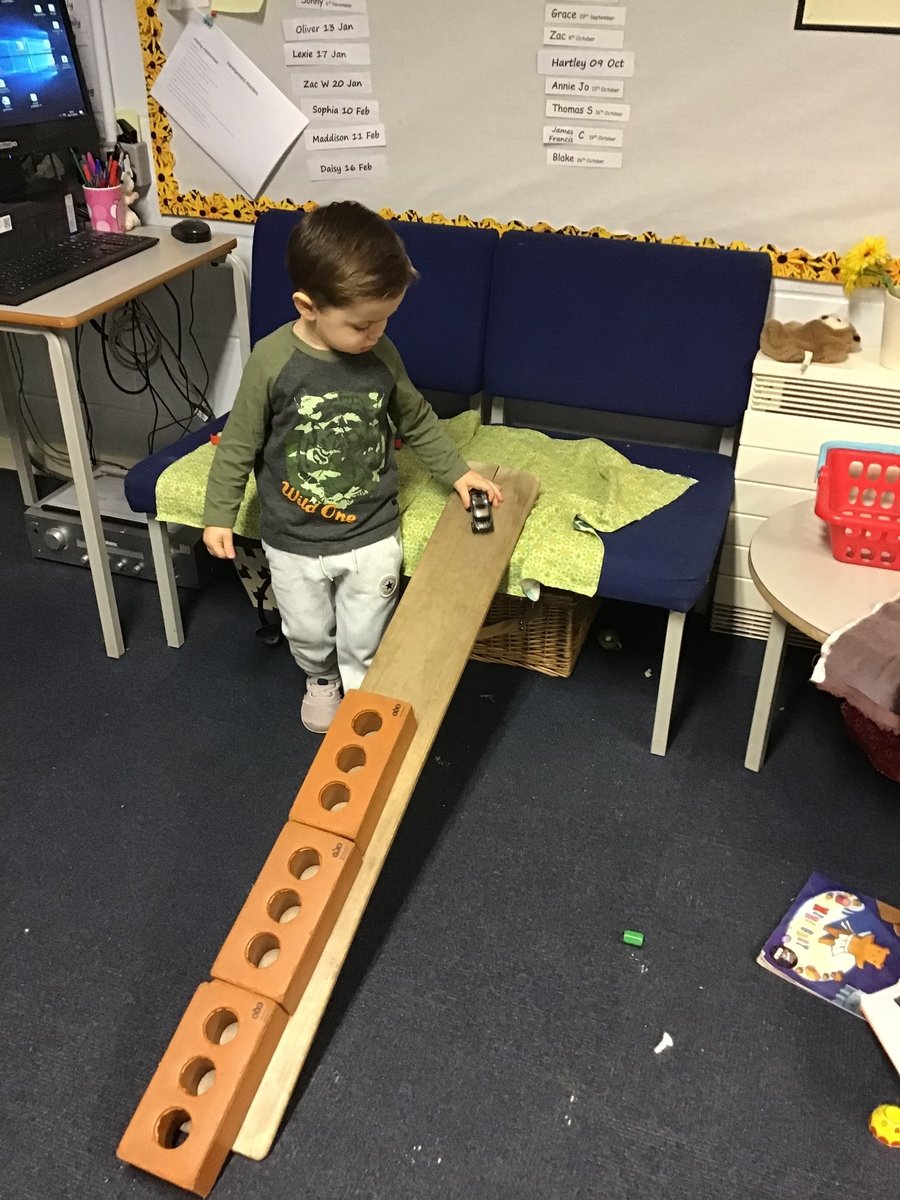 We had a Road Safety day. We borrowed lots of equipment and took it in turns to practise crossing the road.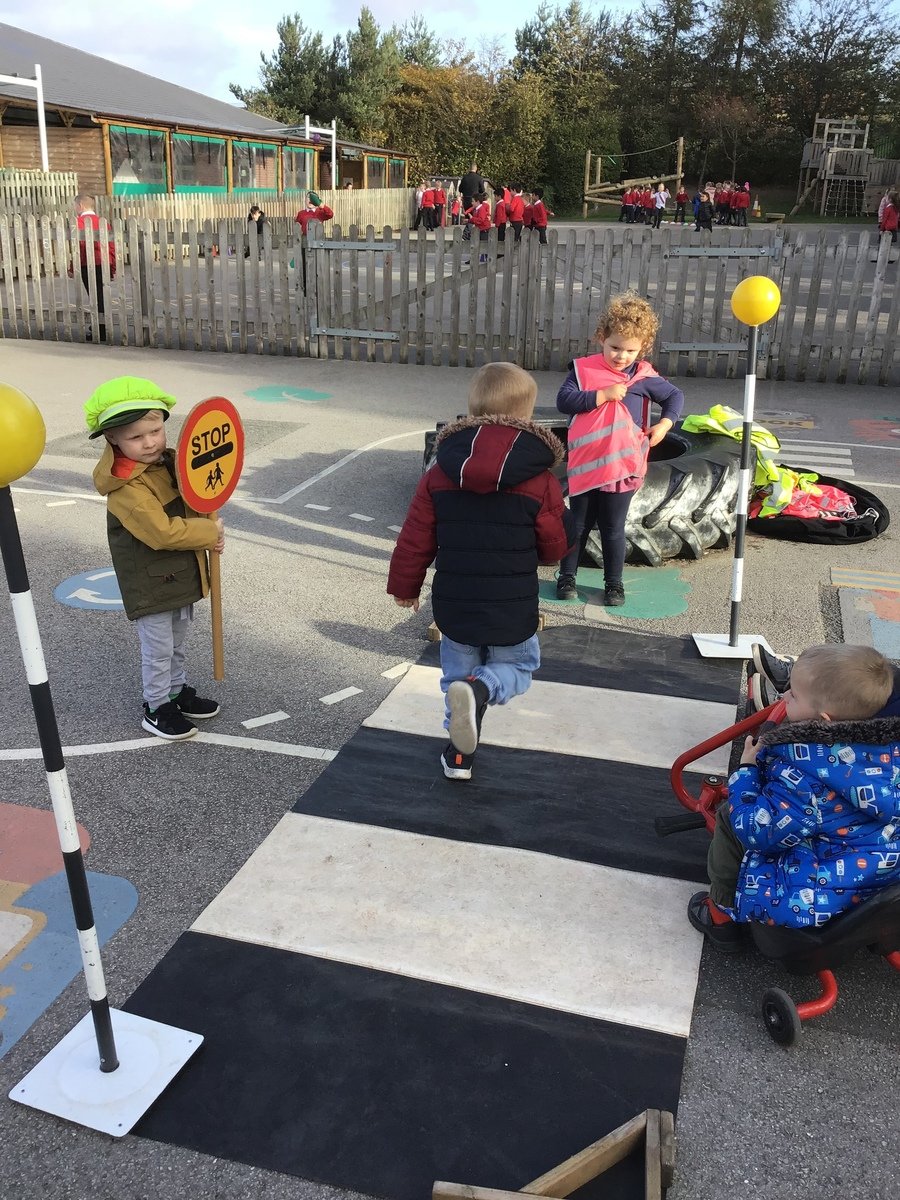 January 2019
Happy New Year to you all.
We are welcoming some new children to Nursery this month.
We are going to be working on dinosaurs as a starting point this half term.
Miss Milnes will be working with us this term. She is a SCITT teacher and is training to be a teacher this year in our school.
January 2019.
we have been learning how to use tools safely when we are doing woodwork.
Dave came to help us with the hand drill and we have all been working hard with the hammers.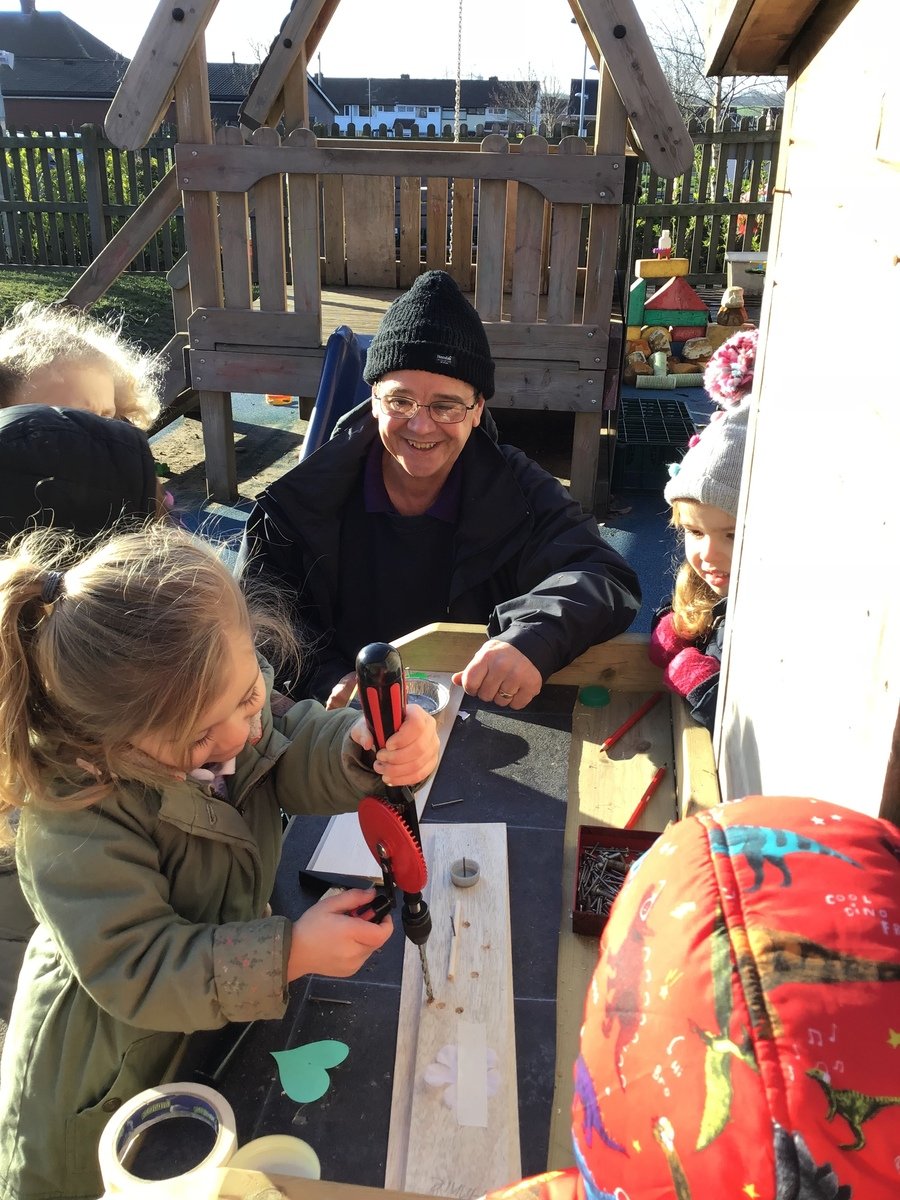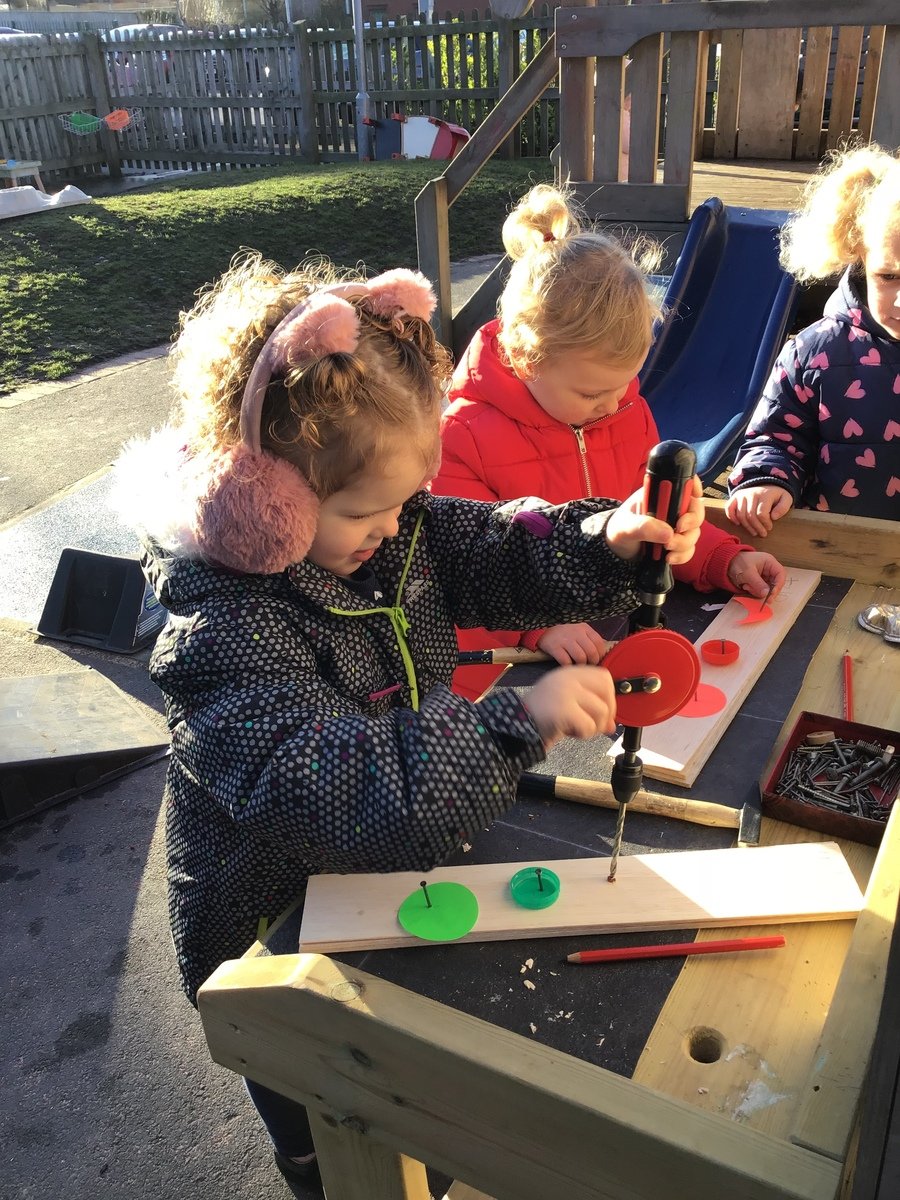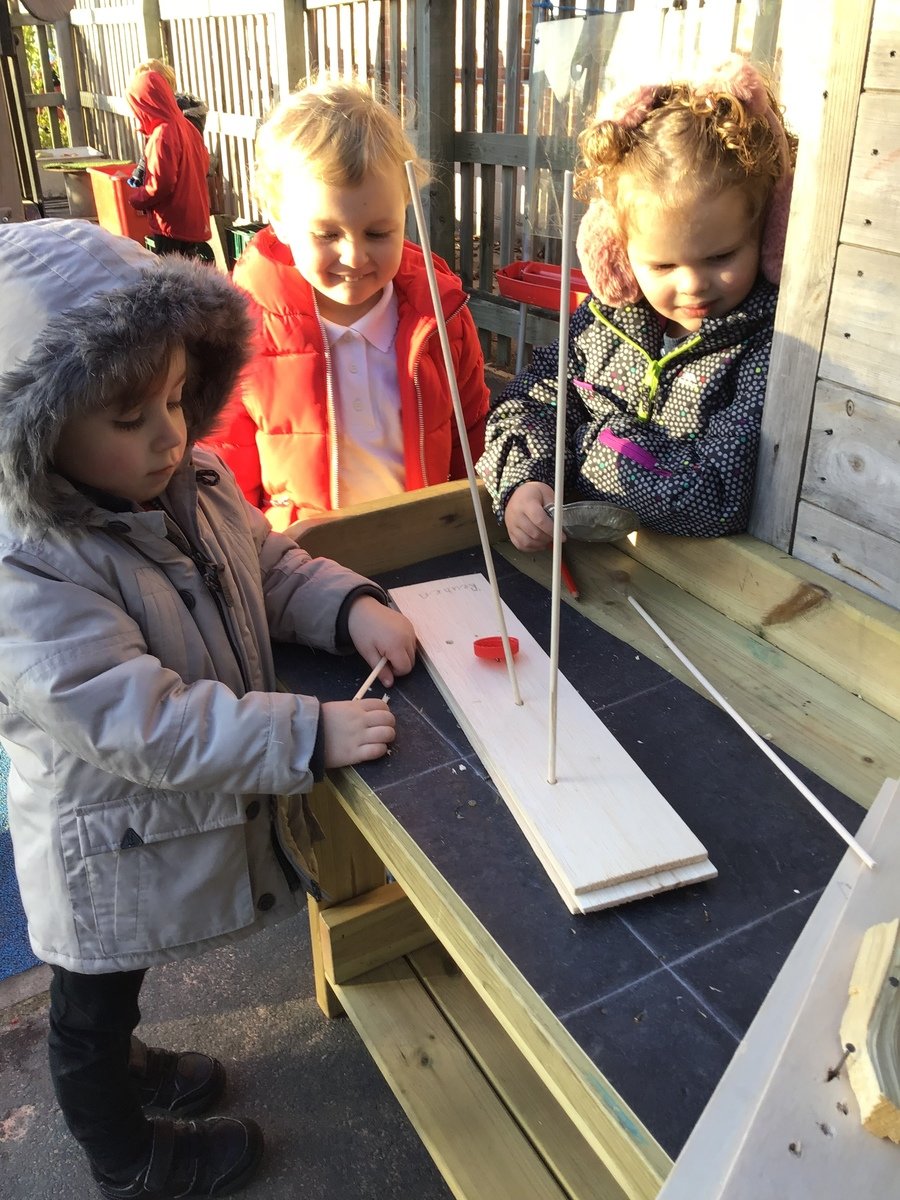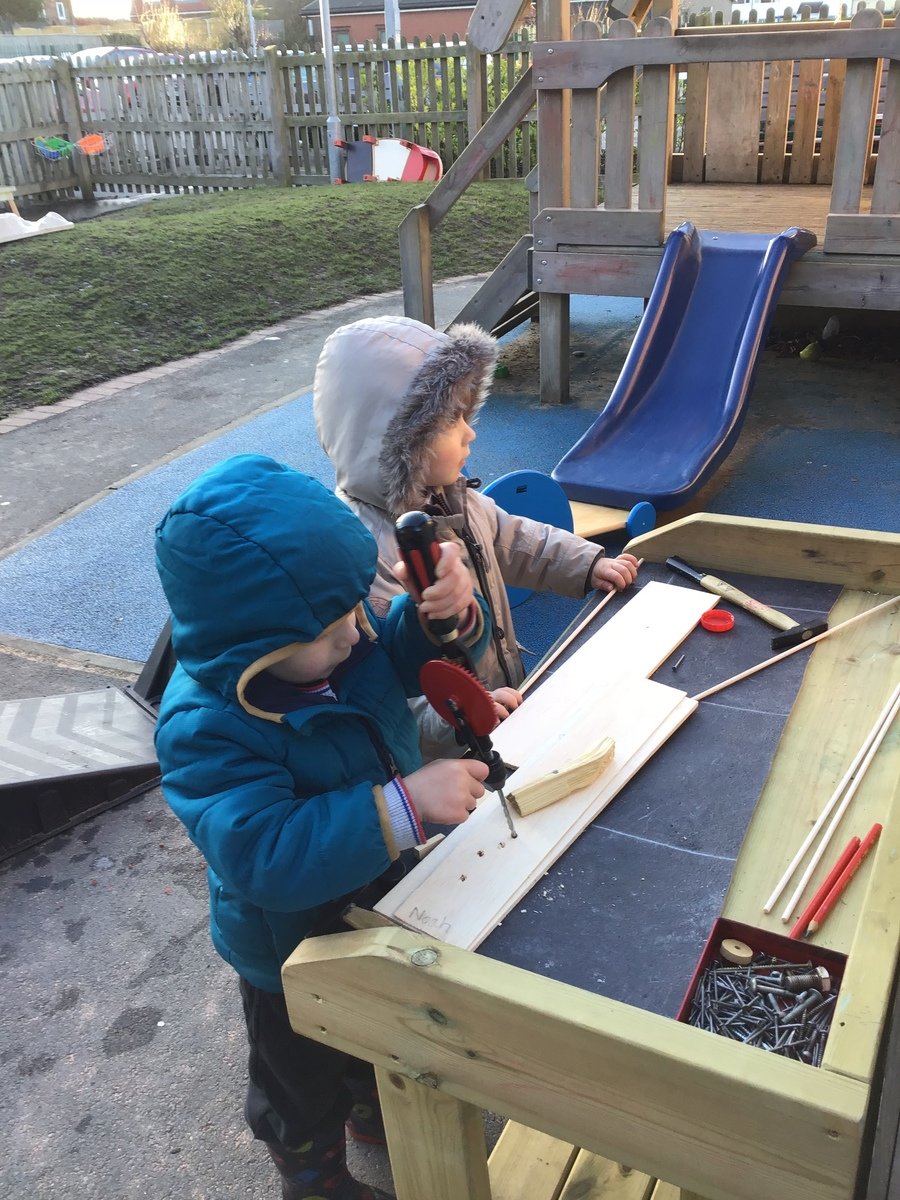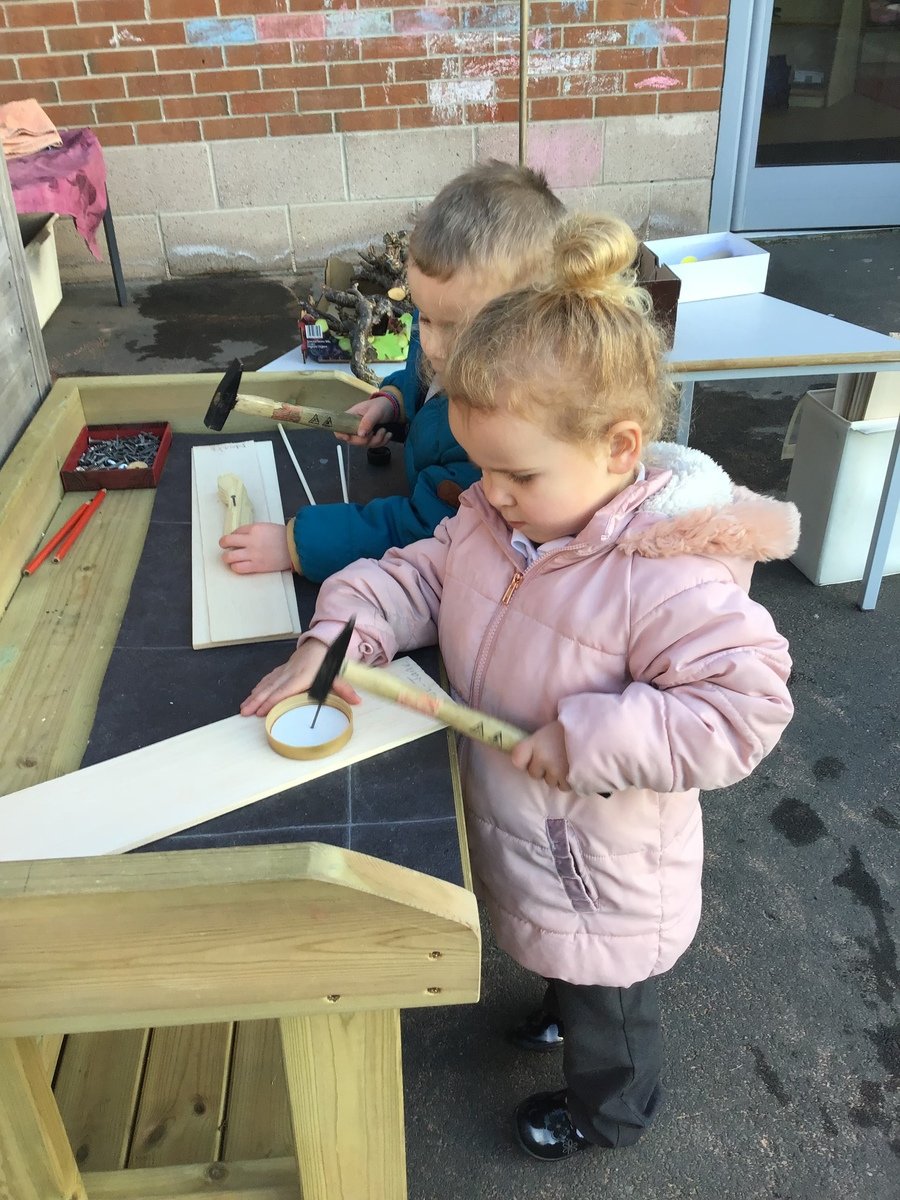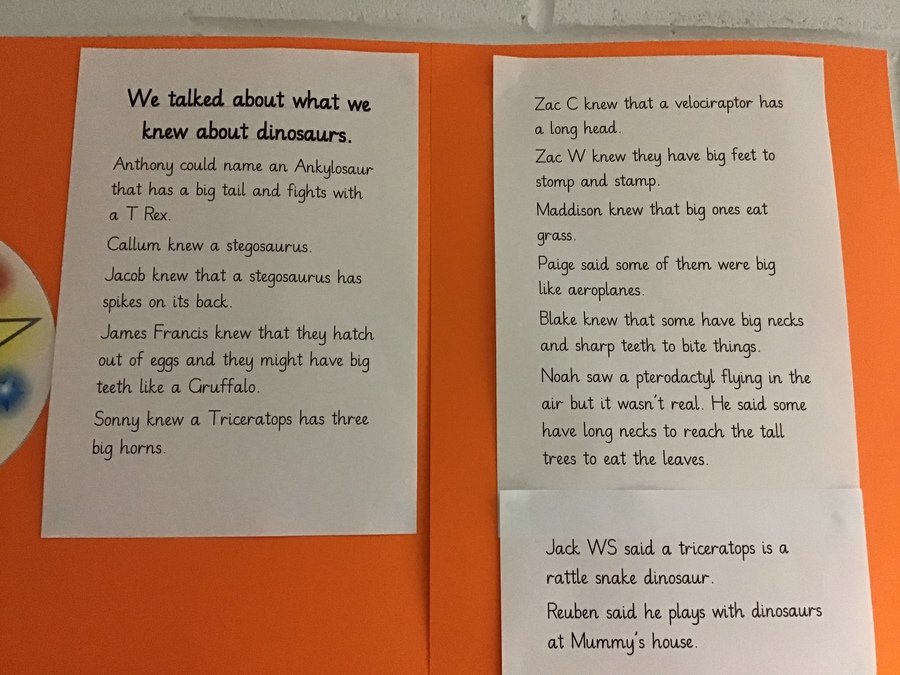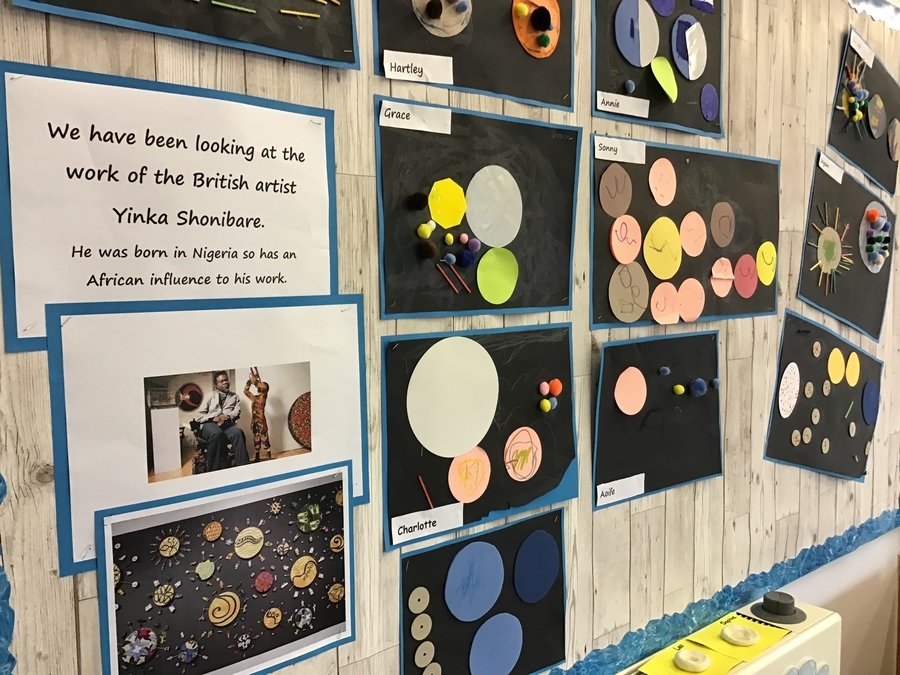 21/1/19
This week we have been mechanics outside.
We have pumped up tyres, fixed brakes, mended engines and added turbo boosters.
Noah made sure that everyone paid and made them count out the correct number of pats on the hand.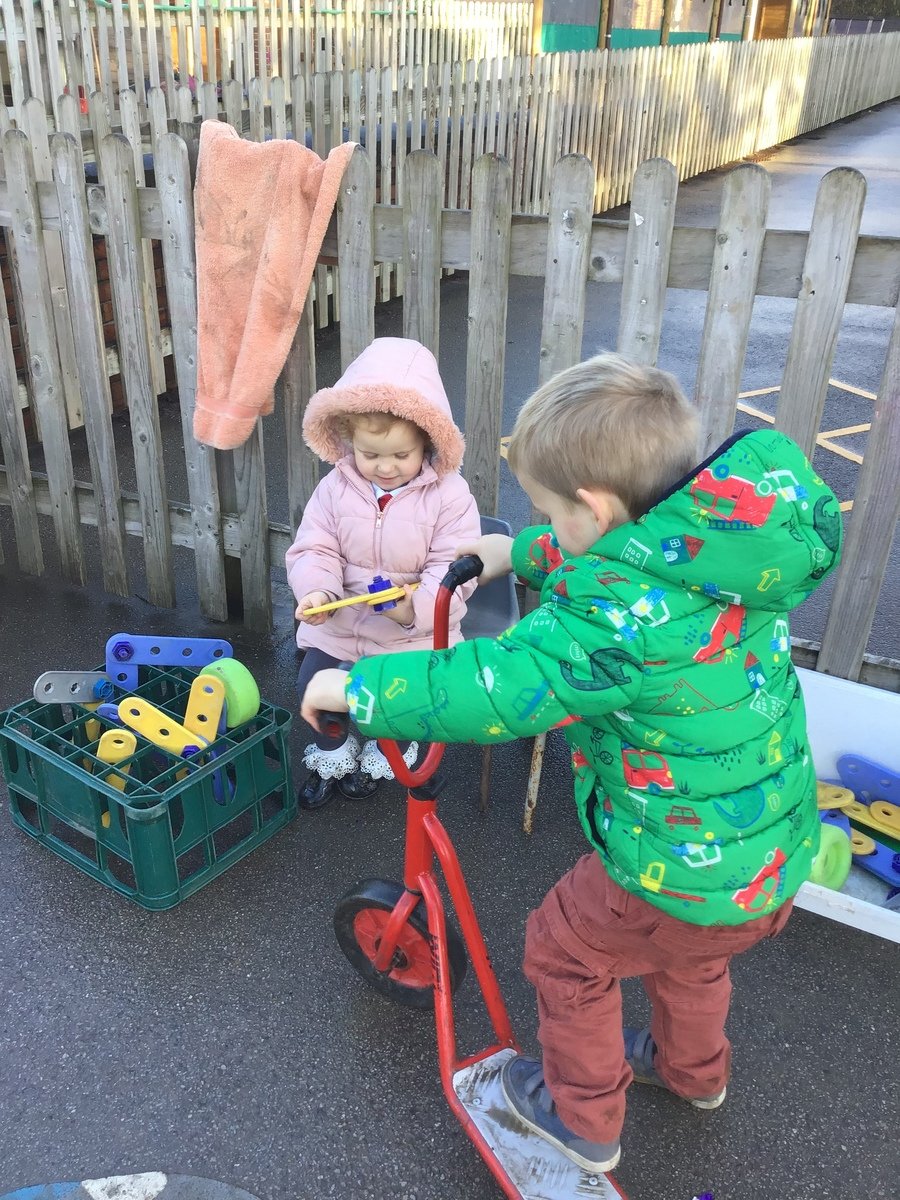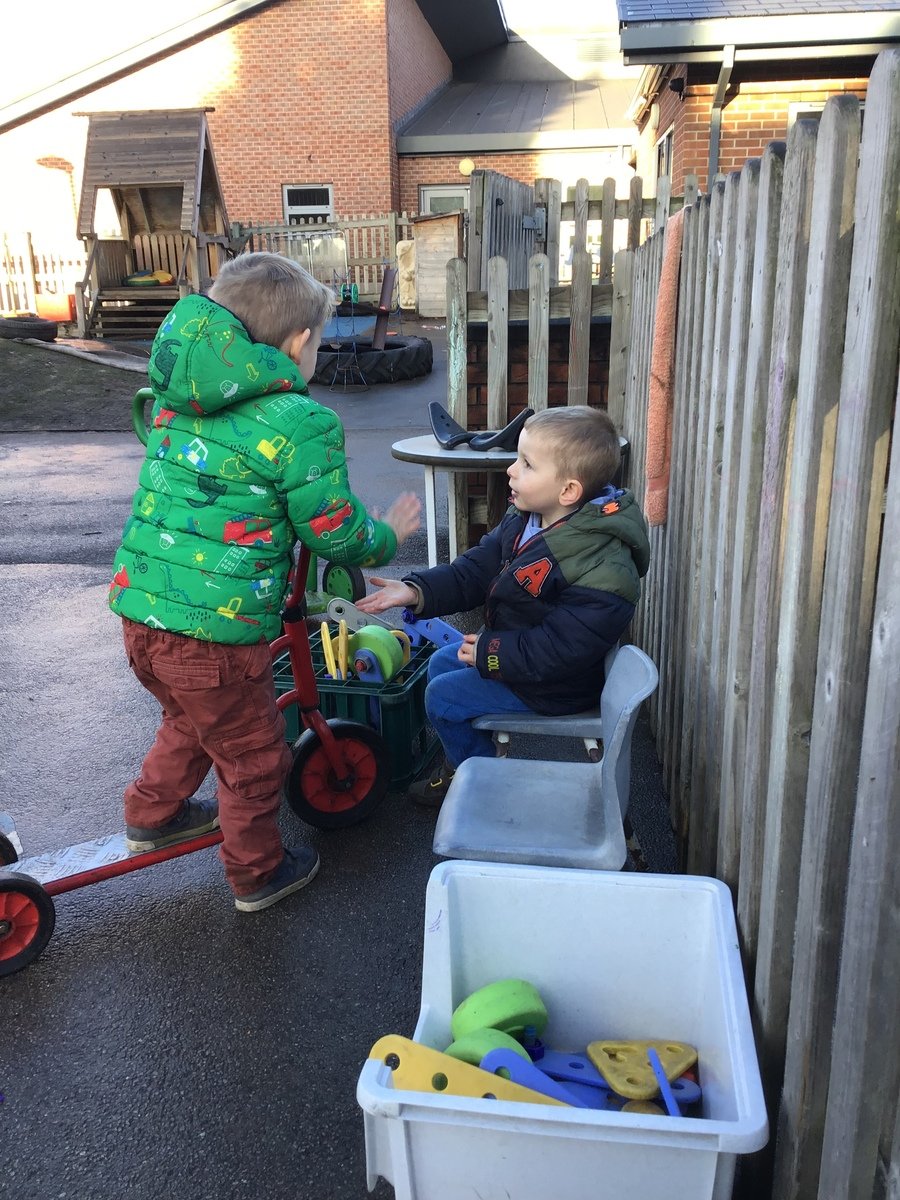 Feb 11th 2019
This week we have been learning about Chinese New Year.
We watched a clip on CBeebies and we have been making lucky money purses.
We have been taking on roles in the Chinese restaurant and have been building our versions of the Great Wall of China.
March 2019
We have been reading and acting out Traditional Tales.
We particularly enjoyed the Gingrbread Man and made up actions so we could all chant the story.
We celebrated World Book Day by bringing a book in a box.
Here are a few of our creations.
This week we have been talking about different families and who lives in our house. we have drawn some lovely pictures.
We all dressed up in red clothes for Comic Relief.
April 4th
We had an Easter egg hunt in the wildlife garden.
We got twenty Go Go 's again. So we voted for another treat.
Lots of us wanted to make a cake so we made Krispie buns to take home.
We have been doing a dissolving experiment. We looked carefully at what has changed and made predictions.
May 19
We have been learning about mini beasts.
We looked for them in the wildlife garden.
We have been looking for them outside.
We have made and drawn them everywhere!