Adults in Class : Mrs A Sunderland -Teacher, Mrs B Hudson - Teaching Assistant
Mrs S Harris - Wed PM & Mrs L Towler - Fri AM
Welcome to Reception Class
We have had a lovely busy start to our new year together.
The children have settled in well and are enjoying exploring the Unit.
They are also enjoying completing our Phonic, Maths & Investigation Challenges.
Our new topic is ALL ABOUT ME, and we have all painted fantastic self-portraits.
Below are details of our planned learning for the next half-term. We will however follow children's interests and ideas, so this may vary.
We have done PE for the first time this week. The children were very good at following instructions and we learned the Bean Game. The children particularly enjoyed being french beans ("Oo la la!")
We then began to learn how to use space to move around the hall safely. We pretended to be some of the pets that the children had talked about earlier this week. We were dogs, cats and parrots!
We have had a very busy few weeks in Reception.
We are all getting to know each other well through our Topic "All About Me".
This week we have looked at 'Our Heroes' and what characteristics they have.
We talked about Usain Bolt, we discussed his dedication and resilience. We enjoyed watching clips of his races. Some of us drew pictures of him. We had our own races in the playground and in PE we practiced running safely at different speeds, we also liked doing the Lightening Bolt stance!
Thank you to the all the parents and grandparents who joined us for our Early Years Maths Workshop.
It was lovely to watch everyone tackling the maths challenges.
In Maths we have been looking at patterns.
We looked at the artwork of the British Artist Bridget Riley, who specialises in pattern and optical illusion.
We created our own versions of some of her work.
This week in Reception we have been talking about our favourite toys.
We looked at a range of toys, including ones from a long time ago. We all then made our own 'cup & ball' toys, decorating our cups and then attaching a ball & string using cellotape.
Then the fun began! We showed great resilience in using our new toys, as they can be quite frustrating! We knew we had to keep trying and we congratulated each other when we finally achieved success.
On Wednesday evening Friends of Hill Top kindly organised and ran the Halloween Disco for the children. It was a super party with a 'spooky' hall and lots of party games. Children also received drinks, crisps and sweeties.
The children looked amazing and we all had a fantastic time.
On Friday 19th October the school held a MacMillan Coffee Morning & we all wore pink to support Breast Cancer Research.
The children really enjoyed the buns!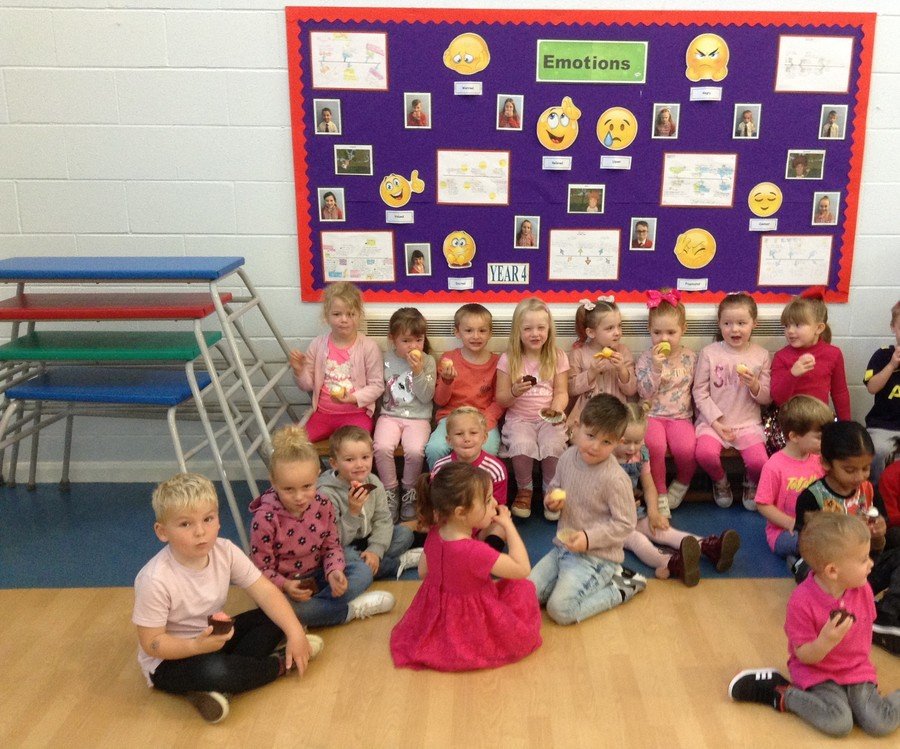 We had a visitor on Tuesday, who came to talk to us about the importance of Road Safety. He taught us a song about the Green Cross Code & told us a story about the importance of seat belts.
We also watched a puppet show about staying with grown-ups near roads.
We then went outside into our playground to practice being safe around roads & traffic.
Below is our planned schedule for this half-term, however, as we do endeavour to follow children's interests, this may alter.
We have had a busy few weeks looking at the amazing sculpture work of British Artist Cornelia Parker. We have used a variety of resources, (both inside & out) to re-create some of her work.
We all looked superbly 'Spotacular' this morning, in support of Children in Need.
Thank you to everyone for your kind donations.